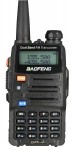 I keep getting asked about the Baofeng radios. Especially the new hams seem to be attracted to the low price. Even though I own several of them and make good use of them, I have been a little reluctant to recommend them. I put together my thoughts on these radios and a few tips to get started. Read the full story here on HamRadioSchool.com.
73, Bob K0NR
The post Hey, Should I Buy the Baofeng Radio? appeared first on The KØNR Radio Site.
Bob Witte, KØNR, is a regular contributor to AmateurRadio.com and writes from Colorado, USA. Contact him at

[email protected]

.
15 Responses to "Hey, Should I Buy the Baofeng Radio?"