Welcome to Handiham World!
Before we do anything else, I'd like to share last week's Midwinter Madness Hamfest with our readers. After that, we have a special edition of the Handiham World that is dedicated to operator improvement.
Midwinter Madness Hamfest Photos
Our thanks to the Robbinsdale ARC for table space at Midwinter Madness, the closest Hamfest to Handiham Headquarters! Photo credit: RARC.

Pat, WA0TDA, and Matt, KA0PQW pose in front of the Handiham table. Photo by Susan Tice.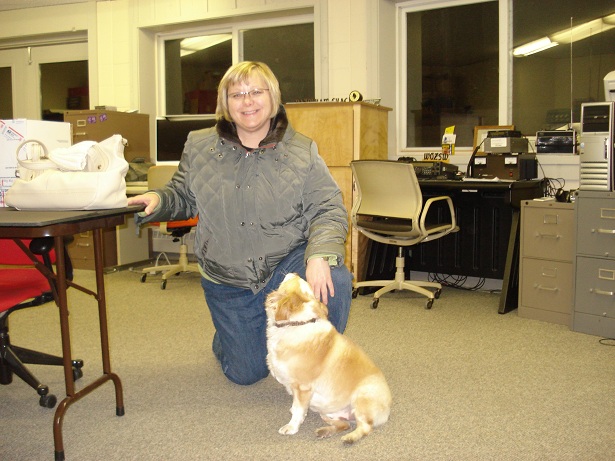 Susan Tice and Jasper get ready for the hamfest by helping to pack the booth equipment at Handiham Headquarters. Asked if it was a tough job, Jasper said, "ruff". WA0TDA photo.

Bob, W0LAW, ARRL Minnesota Traffic Manager, mugs it for the camera at the ARRL booth, right next to the Handiham booth. WA0TDA photo.
Now, to our special feature: Communicating with other hams: It's all about exchanging information.
Okay, I've had it with bad communications and bad communicators. It's time to teach some "elementary" ham radio. In a special three-part series, we are going back to our Technician Class studies to review some communications basics. To help us, we are taking the information from my teaching notes – the very same notes I use to teach in my own local club's Technician course. We can all do with some reminders of what constitutes the basics of amateur radio communication.
Ready to review the basics? Good! Let's get started.
The basics
Start with callsigns: My callsign is WA0TDA.
Every other station has one, so you will use both of them to initiate a contact:
"W0ZSW, this is WA0TDA".
Identify!
• Use your callsign.
• Speak clearly & slowly.
• Use phonetics when conditions make hearing difficult.
• Position your microphone correctly.
• Repeat (or ask for a repeat) of the information as necessary.
When you are done talking… (Read more on the Handiham website, or listen to the audio podcast.)
Pat Tice, WA0TDA, is the manager of HANDI-HAM and a regular contributor to AmateurRadio.com. Contact him at

[email protected]

.