Welcome to Handiham World.
New Tech Net Begins Next Week!
It isn't every day that we launch a new net. The official start date is on Thursday, 6 September 2012. The net will meet at 7:00 PM each Thursday United States Central Time and will remain true to local time throughout the year.
Here are some key things to remember about the new Tech Net:
It is perfectly okay to simply listen to learn. You are participating just by listening.

You should check in if you have a comment or question related to a technical topic. (Checking in to get on a net roster is not part of this net.)

When it is clear that a particular topic is under discussion and the discussion is not finished, please do feel free to add to the discussion if you have additional information on that topic. If you have some other technical question not related to the topic at hand, please wait until the current topic has been discussed and it is time to move on.

The net will be moderated and the discussion facilitated by the Net Control Station (NCS).

The Handiham Tech Net will meet each Thursday evening at 7:00 PM USA Central Time and last around an hour.

The net is heard on the following nodes and links:
HANDIHAM conference server Node 494492 (Our preferred high-capacity node.)
KA0PQW-R, node 267582
KA0PQW-L, node 538131
N0BVE-R, node 89680
IRLP node 9008 (Vancouver BC reflector)
WIRES system number 1427
Email me at [email protected] with your questions & comments.
Patrick Tice, WA0TDA
Handiham Manager
---
Handiham remote base station report
Thanks to Jose, KK4JZX, we are making some great progress on some of the software issues that our users have been experiencing. One such issue is some pretty noticeable lag in the response of the software to user input. For example, I can press the space bar to toggle the transmit/receive and I have counted delays up to six seconds! Other times the response will be nearly instant, as it should be. This was found to be caused by the code in the software telling it to reference a website that was no longer available. While the software waited for a response from a website that was never going to answer, the delay appeared. Echolink users who regularly use public proxies are familiar with how the application is unresponsive when it is querying a proxy that either does not exist or is already in use. This is a similar deal, so we are working on a way to fix it.
HOSTS file Phone Home fix
Remote Base Update: After a couple of weeks of code analysis, a workaround was found by KK4JZX. It has been found that the W4MQ client wants to "Phone Home" for some reason and, thus, the workaround requires that Handiham remote base users implement the HOSTS file Phone Home fix. Once the Phone Home fix is implemented, the W4MQ client will function much faster for both sighted and non-sighted users. Reports are coming in and we are getting feedback indicating that the experience is a much more rewarding one. The delays encountered with the PTT function are gone and it is now much more responsive. Stay tuned for additional fixes that we plan to release as part of the Handiham remote Base client software bundle!
You may visit the remote base website to download the current installation files, which do not yet contain this fix.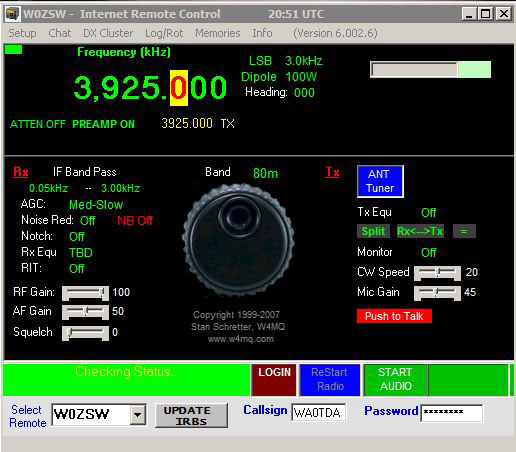 W0EQO at Courage North is in service. W0ZSW is in service.
Solar Activity Forecast: Solar activity is expected to be very low to low with a slight chance for moderate activity for the next three days (29-31 August).
Geophysical Activity Forecast: The geomagnetic field is expected to be predominately quiet for days 1-3 (29-31 August).
Credit: NOAA Space Weather Prediction Center
Please contact me directly at [email protected] if you have a remote base comment.
Pat Tice, WA0TDA, is the manager of HANDI-HAM and a regular contributor to AmateurRadio.com. Contact him at

[email protected]

.
One Response to "Handiham World for 29 August 2012"