Welcome to Handiham World.
Net wrangler WA6DKS starts us out with a Field Day report:
A wonderful Field Day was had by all on the Handiham conference server on Saturday, June 23 and Sunday June 24, 2012 whether you were using Echolink, IRLP, ICQ, WIRES®, cell Phones, the internet, or plain old RF radios. During the two-day period, we had over 500 contacts which included over 12 countries and all 50 of the U.S. states.
The Handiham Field Day ran longer than the official ARRL event, but a good time was had by all whether it was net control operators, backups, check-ins, or just listeners.
Now, isn't this what the ham radio hobby is all about? Contacts were made with stations from Azerbaijan to China, Nova Scotia to South Africa, and of course Canada and the United States. Wonderful discussions on many topics added to the fun during the two-day event. It was all about laughter, interaction, and fun times. A very special contact occurred with a station in the State of Florida that was "bicycle mobile" using one tenth of a watt of power! (Did I say QRP?!!)
Many of our Net Control Operators and Assistant Net control operators supported each other by recording all of the contacts with the names, callsigns and locations while at the same time making sure that the text box information was recorded during the day and the night. SouthCARS connected to Handiham Conference Server and the Van-IRLP throughout the two-day period after their own net sessions concluded.
This was our second Field Day, and the credit should be attributed to three individuals –Ken Schwartz (W6KHS), Pat Tice (WA0TDA), and Susi White (WA6DKS). The decision among these individuals was that there are lots of ham radio operators throughout the world who do not have an opportunity to attend an ARRL sanctioned Field Day. Therefore, an opportunity should be provided to those who would like to experience the event because (after all) there should never be a distinction made between "able-bodied" and people with challenges not being able to communicate.
All methods of communication were used so that we were assured of making as many state and country contacts by simply sending out e-mails, connecting to other conference servers through the internet, and having the help of Southcars and The Coffee Shop by using their e-mail membership lists and help in sending e-mails to those in that particular region and requesting contacts.
The Handiham organization wishes to thank everyone who participated in our successful 2012 Field Day event whether you were a net control operator, a backup, from Southcars, The Coffee Shop, The World, or any other conference we contacted . Without those of you helping in the background or even checking in, we could not have had a successful event without YOU. The success of the 2012 Handiham Field event is owed to each and every one who helped and we all look forward to next year.
Thank you to Susi, WA6DKS, for that report.
Email me at [email protected] with your questions & comments.
Patrick Tice, WA0TDA
Handiham Manager
---
Station Check at Camp Courage North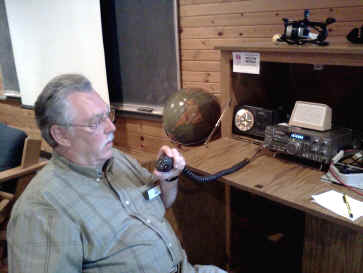 Bill, N0CIC, checks out the Kenwood TS-440 station that has been stored several years, since our last Courage North Radio Camp in late 2009. We were pleased to find that the rig worked perfectly and the G5RV and beam antennas were all operational. The rotator also worked and trees were still well clear of the antenna's rotating radius. An Icom dual band FM rig did not work because of a faulty microphone, so that unit was packed up and brought back to the Twin Cities for assessment and possible repair by a volunteer. Bill and I (WA0TDA) opened the station at Courage North as part of a Veterans open house weekend. While there, I also gave remote base station W0EQO a once-over and found it to be in excellent condition. Our thanks to Bill for his help at Courage North. If you look carefully, on the top of the radio cabinet you will see Bill's golf ball slingshot, used to launch antenna wires up into the trees. We didn't have to use it, though.
Speaking of trees, several of you have asked if the tree we planted in memory of Dick Chrisman, AB7HW, is alive and well. Indeed it is, so here is a photo of me (WA0TDA) standing by the once tiny tree which now towers to over twice my height. I sure look like a doofus in this picture, but the tree looks great. We sure miss Dick and Scotty, the Wonder Guide Dog. This photo was taken last Saturday. The tree is just outside the main Dining Hall at Courage North.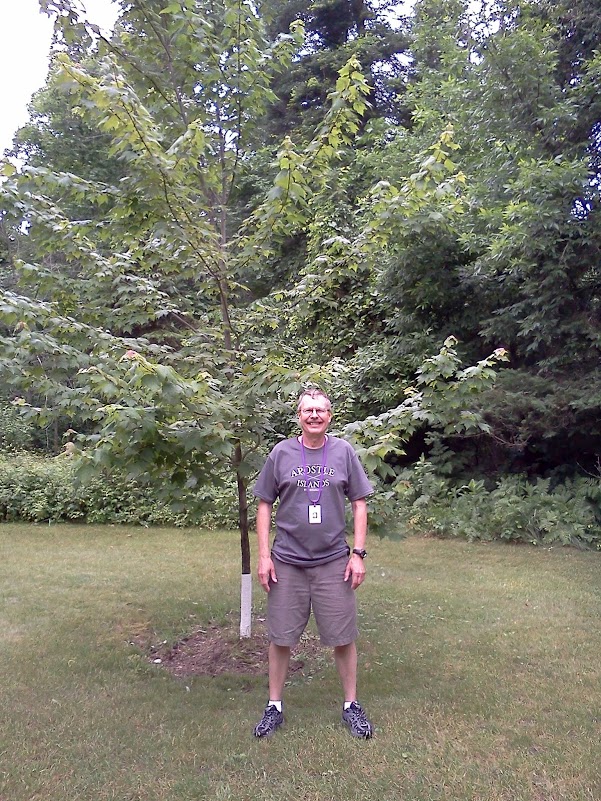 Pat Tice, WA0TDA, is the manager of HANDI-HAM and a regular contributor to AmateurRadio.com. Contact him at

[email protected]

.