Welcome to Handiham World!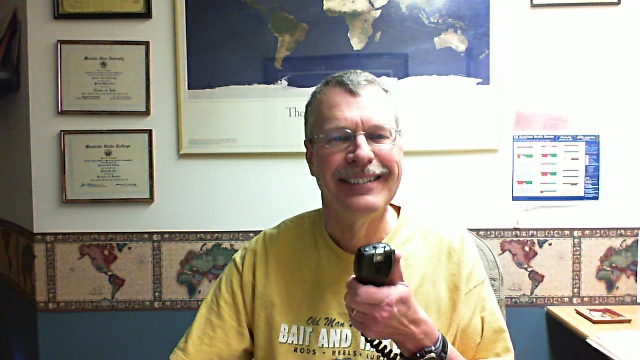 In praise of summer nets:
August is usually not a high activity month in ham radio anyway, so what the heck, maybe not that many people noticed if the local radio club didn't have regular meetings during the summer.  They were probably all on vacation or harvesting the vegetables from their gardens.
Still, key members of radio clubs are waking up and thinking to themselves, "Holy cow, it's almost September and the club's first meeting of the new ham radio season is almost here. We've got to start on the club newsletter!  Plan the business meeting agenda!  Who's in charge of the club program?  Yikes, how are we going to get all this stuff done?"
Yes, it's that time again, time to plan for the Autumn and Winter months, when ham radio interest will be higher than the snow bank outside my window here in Minnesota. Last week I attended a planning meeting with some of my fellow radio club members. We talked about the upcoming membership meeting, the newsletter, and what direction the club would take in the upcoming months. We are already planning to teach a General Class course this Autumn.  My local club, the Stillwater (MN) Amateur Radio Association, has a strategy of offering Technician training in the Spring to coincide with Skywarn training prior to the summer severe weather season and a General Class upgrade course in the Autumn when our Technicians from the previous Spring may be interested in learning more about amateur radio and the HF bands.  Many clubs take a three month summer break like ours, though June, with ARRL Field Day, is still quite busy.  It is just the regular meetings and the newsletter that "go on vacation" for the summer break. Other club activities, like the local HF and VHF nets, remain active throughout the year.
One of the tricks to remember about keeping your radio club active and healthy is to ALWAYS have something going on, even during the summer.  Regularly scheduled activities are going to provide the continuity that will keep members from drifting away over the summer and never coming back.  Now, I'm not talking about elaborate dog and pony shows here.  You don't have to organize special meetings or events.  Simply having an evening net, even an informal gathering without a net control, can be good enough.  Scheduled nets are good, too.  Some clubs have a regular monthly breakfast or lunch, all of which is informal and completely optional, which is just perfect for summertime when plans can change at a moment's notice.  At the Handiham Radio Club we have our daily EchoLink net.  The important thing is to keep club members connected with simple, easy, optional, low-commitment activities that require almost no planning or effort.  
While large, elaborate activities like summer hamfests or special event stations are fun and can sometimes be the highlight of the summer, not all club activities need be so ambitious.  If you set the standard too high, an elaborate event can burn volunteers out.  If such events take place once in a while, that is one thing.  If they are scheduled every summer and the same volunteers are expected to manage them again and again, you should not be surprised to find that one summer will come along when everyone is just too busy to plan or be part of the event.  The easy to plan informal on the air get-together or regular net can be the glue that holds your club together over the summer.  Don't sell it short!
But first – Help us win the Dr. Dave Challenge!

Photo: Bill, K9BV; Lucy, KE6QNX, Dr. Dave, KN0S, Bill, N6HBO & Guide Dog Heldy, and Pat, WA0TDA (kneeling in front.) Thumbs up for a pass for Lucy at the VE session. 
Thanks to Chris Peterson, KG0BP, for taking advantage of his employer's regular automatic donation system. Chris has been helping us out with regular contributions.  In fact, quite a few companies have such donation programs, and they can make supporting non-profit causes like the Handiham System easy and quick. Check with your employer to see if this option might be available to you.  Thanks also to Bob, N0HBC.
Money is tight these days and we desperately need your support.  Now, thanks to a generous challenge grant by Dr. Dave Justis, KN0S, we have a chance to help fill the budget gap.  Dr. Dave will donate $5,000 to the Handiham System if we can raise a matching amount.  That means we need to really put the fund-raising into high gear!  If you can help, designate a donation to Handihams, stating that it is for the "Dr. Dave Challenge".  We will keep you posted in our weekly e-letter as to the progress of the fund. 
Nancy can take credit card donations via the toll-free number, 1-866-426-3442, or accept checks sent to our Courage Center Handiham address:
Courage Handiham System
3915 Golden Valley Road
Golden Valley, MN  55422
Be sure to put a note saying "Dr. Dave Challenge" somewhere in the envelope or on the note line of the check.  If you donate online as detailed toward the end of your weekly e-letter, be sure to designate to Handihams and then send me an email letting me know you donated to the Dr. Dave fund:

[email protected]

. 
Thank you so much for your support!
Pat Tice, WA0TDA, is the manager of HANDI-HAM and a regular contributor to AmateurRadio.com. Contact him at

[email protected]

.