Welcome to Handiham World.
On things for which we are thankful, Black Friday, ham radio gifts, and other seasonal musings: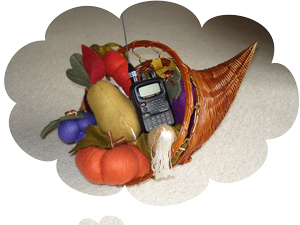 If you're like me, you probably think of the Thanksgiving holiday as one to spend with family and friends and to consider those things for which we should be truly thankful. I'm talking about the big things like family, friends, health, and having the basic necessities of life, not trivial things like finding whole berry cranberry sauce on the Thanksgiving table. Let's just admit right now that I really like whole berry cranberry sauce, but when you are considering thankfulness there are some things that really have to come first.
So family, friends, and health are right up there at the top of the list. But when I consider how I was lucky enough to get into ham radio in my late teenage years and how it has proven to be an exceptional way to make friends, engage in a lifelong learning activity, and always be there for me to push back loneliness whether I was traveling far away from home or stuck inside in the dead of winter. Being part of a community and being engaged in that community has been shown to contribute to a person's overall health and a longer life. Staying engaged in amateur radio is just the sort of thing that can make life just plain better, and for that I am truly thankful.
When I listen to the Handiham nets, I hear people who are friendly and helpful and who are, whether they realize it or not, making the world a better place a little bit at a time each day by communicating with their friends. I am thankful for each and every one of our Handiham members and for our supporters and volunteers and everyone who helps to spread the good word about amateur radio and the Handiham program. I am certainly thankful that so many amateur radio operators stayed close to their rigs and stayed on the air during the extended sunspot minimum that preceded cycle 24. Now, when I see that the United States amateur radio population has topped 700,000, an all-time high, I feel thankful that so many of our fellow citizens here in the United States and around the world still see amateur radio as a worthwhile activity, a way to build community, and a way to make the world a better place.
While not everyone in the world celebrates Christmas, that will be the next big holiday here in the United States, and it will be followed closely by celebrations bringing in the new year of 2012. Popular culture being what it is, Christmas is celebrated as much as a secular holiday of gift giving as it is a religious holiday. My wife and I were surprised to see lots of Christmas decorations in Japan, where the secular version is prominent. Come to think of it, we even saw Halloween decorations in Japan. Popular culture just has a way of spreading everywhere and anywhere. The reason I mention Christmas and New Year's is that we will be closing the Handiham offices for a fair number of days toward the end of December. We will certainly try to maintain a more or less regular schedule of weekly Handiham World newsletters and podcasts, but some of the Friday audio might not be as current as one would expect in other months of the year. Still, my volunteers always amaze me with their dedication and willingness to help. This Thanksgiving season I definitely have to give a shout out to our Handiham volunteers. They help me with the website, do volunteer reading and recording and audio teaching, help promote the Handiham program, teach at camp sessions and with their local radio clubs, run the nets, and help each other out when technical or operating problems arise. I am so thankful for all of our dedicated volunteers!
Are you planning on shopping at midnight on Black Friday? Me, neither.
Anyway, if your tradition is to exchange gifts over the holidays and one or more those gifts happen to be amateur radio related, just make a mental note to plan to share information about your new ham radio equipment with your weekly E-letter readers and listeners. If you happen to get some piece of equipment that is still not audio-described for blind users, please consider learning about that equipment yourself and then producing an audio tutorial that we can place on our website as a resource for others who are looking for help. And if you get something really unusual and unexpected as a holiday gift, you might consider sharing your story with your fellow readers. In fact, I think I can imagine some pretty weird and unexpected stuff under just about any Christmas tree. One year, when we were kids, I gave my sister a monkey head carved out of a half-coconut. Boy, was she mad at me. Best Christmas ever!
Early Winter Reading: Becoming a Ham (Part 10)
Becoming a Ham – Part 10
By T. A. Benham (SK – formerly W3DD, a callsign which has been reassigned.)
Tom Benham, now a silent key but who most recently held callsign W3DD, was a ham radio pioneer, and being blind didn't even slow him down! Join us now as W3DD recalls more about satellites in the early days.
The Trailer
During April of '59, the students and I heard of an offer from the Government. If we went to Indian Gap, near Harrisburg, we might be able to pick up some surplus equipment. Two boys and I went and we found a fully equipped trailer that was designed for tracking aircraft. It had a parabolic six-foot dish on top that was driven by a sophisticated system from inside. The trailer was 20 feet long and about 8 feet wide. We could have it for the price of getting it hauled to Haverford, which turned out to be $200. The college comptroller authorized the expense and the trailer was parked in a little lot behind the Physics building. With the help of several students, chief among them Amateur Ridgley Bolgiano, the trailer was converted into a satellite tracking station. The 6-foot dish was too small, so we set about finding a larger one. I had heard that ITT, in Nutley NJ, might be interested in giving a hand, so three of us went to visit. We were received most cordially and I asked my contact if they had any parabolic dishes that were due to be scrapped. He paused a minute, looked out the window, picked up the phone and called the Disposal Department. "Hey Jim, you know that 12-foot dish outside my window? Well, it looks like hell, cluttering up the lawn. Please send it to Haverford College, attention T. A. Benham and get rid of the unsightly thing." That was more than we could have hoped for, but it wasn't all. He next called his wife. "Dear, I have three very interesting fellows in my office and I want to bring them home to dinner so you can meet them." We went to his house, had a very nice lobster dinner and a pleasant visit. In a week or so, an ITT truck appeared with the dish. The boys and I got it put together and mounted on top of the trailer. Then Ken from Gerald Electronics came out and helped get the equipment inside the trailer in good operating condition. Since it was intended to track planes, it was nowhere near ready for satellites. When the trailer was ready to be installed in a location suitable for tracking, it was moved to the middle of a large field about a quarter-mile behind the Physics building. We drove two stakes into the ground and strung a string between them to provide an exact north-south line so the tractor driver could point the trailer as nearly north as could be arranged. He had to maneuver the trailer several times to get it lined up to our satisfaction. We had built a heavy platform for it to rest on so it wouldn't settle in the ground and perhaps alter its position. It was very interesting and exciting. We had electric, telephone and teletype lines buried from the nearest pole, which was about 300 feet away. One of the interested boys paid the monthly charges for the phone, another paid for the teletype, I paid the electric.
Linkup with NASA
Now we became a significant link in the NASA tracking chain, at least until they got their multimillion dollar system going. Ridgley built a remote control system so we could turn on functions in the trailer from anywhere. For example, I was coming home from Washington one evening and knew we had to track something about midnight. We stopped in Baltimore and by telephone I turned on the heat, and the receivers to give them time to stabilize. At that time it was illegal to use phone lines for private purposes, but we dodged the rules. One afternoon, there was a knock on my office door and a man entered saying, "I'm from the FCC. I have a complaint from the telephone company that you are running equipment by remote control through their lines." "No, we're not connected to their lines and are not violating the regulations," I replied. "Well then, why have they complained?" I explained that we had mounted a coil on the wall under the wall phone in the trailer. When the phone rang, a voltage was induced in the coil which we used to control relays, timers, etc. He wanted to see, so I took him to the trailer and showed him. He was amazed and left saying "I guess we can't stop you from that!" "No," I agreed. "We do all this without removing the phone from the hook, so there is no way the phone company could know we're doing it. If they allowed us to use the line, they could charge and it would be much easier for us to accomplish the task." I never found out who complained to Ma Bell. Now days it would be no problem. Back in 1936 when I operated my transmitter from the College I had a dedicated line for which I paid, but it allowed control from only one location. The conditions under which this remote system were built had an interesting quirk. Ridgley was driving back to College from his home in Baltimore. Somewhere along the rather poorly lit route 926, he dozed a little and ran full tilt into the rear of a parked truck. Both of his knees were smashed. He spent many weeks in Bryn Mawr Hospital while they were mending. It was during this time that he and I designed the system, on the phone and in person. Then we got tools and parts together and took them to him. He mounted and wired all of the components on a piece of Plexiglas® measuring about two feet square. It was a beautiful piece of work and functioned like a charm. I was heart broken when it was destroyed in a fire! The operating code was simple. Call the number and let it ring once, then hang up. Within a minute, call and let it ring twice. This set two timers running. Then call again and let it ring three times to turn on the heat, or four times to turn on a receiver, etc. Timing was important. To turn things off, let the bell ring four times the second call instead of three and this would set things up for being turned off.
To be continued…
Pat Tice, WA0TDA, is the manager of HANDI-HAM and a regular contributor to AmateurRadio.com. Contact him at

[email protected]

.