Welcome to Handiham World!
What time is it? Think about that awhile and we'll come back to it shortly.
This morning while having my coffee and listening to the radio – NPR – I heard some guy who's a technology specialist talking about how standalone devices are becoming obsolete because they are being replaced by smart phones and tablet computers that do all kinds of stuff for us. I thought it was strange that he forgot to mention the standalone camera, at least the non-professional snapshot or low-quality video camera, which is certainly being superseded by the built-in cameras in smart phones. He was on the mark when he mentioned that paper address books are becoming obsolete. Most people who carry cell phones these days probably have their contacts in the phone's address book. Smart phones and tablet computers might just win the day over standalone e-readers, too. Standalone music players are taking a hit as smart phones become more convenient for playing everything from audio podcasts to audio books. Accessibility features on these multifunction devices are getting better and better, and it is my belief that it is only a matter of time before most accessibility features are simply built in to every consumer smart phone or tablet right off the shelf.
Now where was I? Oh yes; we were talking about how many different things these new smart devices do. They are book readers, take pictures, take notes in both text and audio, record videos, surf the web, handle e-mail and texting with aplomb, make telephone calls (yes, some of us still do use the telephone), and those are only the mainstream common functions of such devices. Applications are being developed at such a rapid pace that it would be a full-time job just to do an overview of all of the specialized functions and tools that are becoming available daily.
Anyway, the point of the story on the radio was that these multifunction smart devices are making other standalone devices obsolete. As an amateur radio operator, I have grown used to self-styled technology pundits predicting the imminent demise of ham radio at the hands of new technology. Of course ham radio is stronger and more popular than ever, and because of its propensity to attract a certain number of techie geeky people to its ranks, it has been able to shoot out some tendrils into the new technologies that the pundits thought would bring about its demise. Take, for example, the smart phone. Both the Android and the iPhone platforms are ham radio friendly thanks to the availability of the EchoLink application. While I may be interested in carrying a handheld radio if it is small and convenient enough, I know that I can access a huge interconnected world-wide resource of repeater systems through my smart phone. Thus, ham radio will come along with me and be available more times and in more places than it ever has been before. Sure, my preference might be to use the handheld radio if I am taking a walk in the park and can access my local repeater. On the other hand, that same handheld radio might be nearly useless on a road trip where repeater resources are more distant and when one has to constantly fiddle around trying to find the right frequency and tone combinations. The smart phone EchoLink application eliminates those problems and allows me to stay connected with my friends on my preferred local repeater.
Here is a test that shows how the sands of technology are shifting under our feet. Ask the simple question "what time is it?"
You might be surprised at the answer, because it depends a lot on how people use and perceive technology. If the person you ask wears a watch and looks at it to find out the time, you are probably dealing with an older guy like me. If the person pulls out a smartphone and looks at that to determine the time, you probably are dealing with a younger person – probably someone in their 20's or younger. You know who was ahead of the curve on this one? Avery, K0HLA! I remember Avery telling me several years ago when we were both working at the old Handiham headquarters office at Courage Center about how he just used his cell phone when he needed to find out the time and how he thus did not need to wear a watch. There are probably lots of amateur radio operators who are following that very trend line in spite of their, shall we say "advanced years". Remember that to a teenager even those who are past their mid-20s are geezers! Ham radio operators do like technology and many of us enjoy being early adopters who like to learn new things and try new things. I have to confess that since I traded in my old clunky cell phone with its tiny hard to read screen even I have found myself checking the phone to get the correct time. I don't think I'm quite ready to give up either my wristwatch or my handheld radio, though.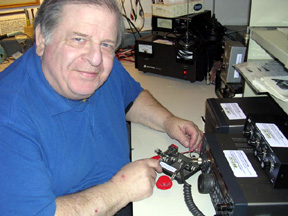 Photo: Trendsetter Avery, K0HLA, operates CW at Handiham headquarters. Notice that neither arm has a wristwatch!
If I might be so bold as to suggest how you should live your life, try to be open-minded and non-judgmental about some of these new technologies. That kind of mental attitude opens the road to using new technologies in ways that can really enhance your amateur radio experience. Now all I have to do is catch up with Avery on telling time!
Pat Tice
[email protected]
Strap on your tool belt! It's time for…
Troubleshooting 101: A quick diode check.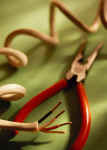 This week we use a multimeter for a quick and easy check of a power diode.
Suppose you have a simple power supply with discrete diodes. For the uninitiated who have never built a small power supply, discrete diodes are not diodes that can keep a secret. A discrete diode is a single component solid-state device, often times a small plastic cylinder similar in form factor to a resistor with two wire leads, one coming out of each and of the small plastic cylinder. The diode is marked with some kind of polarity marking to indicate which lead belongs to the anode side and which belongs to the cathode. If a power supply fails and the fuse blows or the breaker trips within the power supply, this indicates a condition where too much current is being drawn and a prime suspect is one of the diodes. Often times you can check power supply diodes without taking them out of the circuit. All you have to do is use your multimeter to run a few simple tests.
Of course before you do anything with the power supply that you are going to be working on, what do you have to do? Unplug it and be darned sure that it is not powered up or connected to any other piece of equipment, that's what! In addition, any power supply with large filter capacitors might require the discharge of those capacitors to ground in order to make the supply safe to work on. If memory serves me right we have talked about discharging filter capacitors before. In small power supplies I use a metal screwdriver with a clip lead attached between it and the chassis ground to discharge filter capacitors. Working on this stuff is something best done with someone who has a bit of experience if you are entirely new to troubleshooting power supplies. Anyway, assuming everything is unplugged, disconnected, and discharged, you can go ahead and locate the power diodes. If they are discrete diodes, you can run a simple test with your multimeter's ohmmeter function.
Put the multimeter into the ohms times one position. This is generally the best setting to do simple tests with solid-state devices. Remember that everything must be powered off and discharged not only to prevent electric shock but to protect your multimeter. We want absolutely no voltages to be present in the circuitry under test. With the multimeter in the ohms times one position, place one lead on the cathode side of the diode and the other lead on the anode side. Note the reading, then reverse the two leads. If the diode is good, there should be a significant difference in the reading between the two tests. If the diode measures about the same in both tests, it is probably shorted. You cannot always assume that something else in the circuitry is not causing these readings, so it may be necessary to disconnect one lead of the diode from the circuitry and run the tests again. A good way to practice the ohmmeter test for diodes is to just use spare diodes from the junk box. That way you can test each diode in your parts drawer without having to worry about any interference to the readings from other components that might be in parallel with the diode under test. A good diode will read maybe three-quarter scale or so in one direction and then when you reverse the multimeter leads you will get almost no reading in the other direction. A shorted diode will read almost full-scale in both directions. I recommend practicing on some diodes selected from a knowledgeable radio club member's junk box with some help getting the multimeter set up right and learning to hold the leads in place or learning to work with clip leads.
I have used a multimeter many times over the years to perform simple tests to figure out if transistors – usually power transistors of some type – or power supply diodes were good or shorted. Of course these days discrete components are getting somewhat more difficult to find because transistors and diodes may be part of an integrated circuit. The simple ohmmeter test is only effective for discrete components, and if you suspect a bad power supply integrated circuit your only recourse may be to test by direct replacement or, if the circuit breaker in the equipment under test does not keep tripping, by testing voltages at the different pins on the integrated circuit. I have to admit that this is something I would probably not look forward to because these types of components tend to be small and subject to damage if you slip with a multimeter probe and short something out while using the voltmeter section of your multimeter and testing the circuit while it is powered up. Needless to say, all sorts of things can go wrong when you are testing a circuit under power. Not only can you damage the circuit even further, but you can potentially damage your multimeter if you forget to set the right mode and range for the circuit under test, or of course you could get an electric shock!
An interesting radio club "show and tell" project might be how to use a multimeter for some of these simple tests like the diode test. Remember, we are only testing the bigger diodes, not the tiny small signal diodes because you may damage them by trying to test them with an ohmmeter.
Send your ideas about troubleshooting to [email protected] for possible inclusion in next week's edition of your weekly e-letter.
Pat Tice, WA0TDA, is the manager of HANDI-HAM and a regular contributor to AmateurRadio.com. Contact him at

[email protected]

.