Welcome to Handiham World!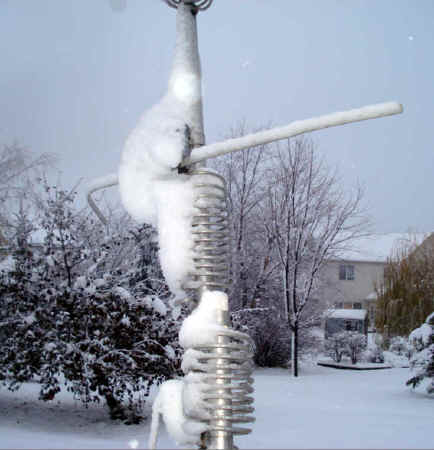 Photo: Butternut vertical at the WA0TDA QTH is covered with snow. Maybe this "cool" picture will help us all get through this spell of hot, humid summer weather!

Handiham Radio Camp begins on Monday, 8 August. The weather across most of North America has been uncommonly hot, often setting new temperature records. Fortunately we did get a nice weather break today here in Minnesota as the humidity dropped a bit and the morning temperature was in the low 60's Fahrenheit. Of course we would like to see nice, comfortable weather during our week at Camp Courage, but there is another reason I look forward to less heat and humidity in the atmosphere: there will be less interference from thunderstorms! Thunderstorm static is a common problem for amateur radio operators who enjoy making contacts on the lower frequency HF bands. The 75 m band is still somewhat usable during the summer months, but it does take patience to put up with all of the static from storms that are sometimes hundreds of miles away. Add to that the long summer days when absorption gets really high and makes signals so attenuated that they really have a hard time competing with the static crashes and you really have quite a challenging radio environment. Believe it or not, some amateur radio operators still even make contacts on the 160 m band during the summer. That is the absolute worst of our HF bands during the high summer season because it is most affected by absorption and QRN.
Sometimes it makes sense to simply shift gears and try some other bands and modes of operation. I really like staying in touch with my friends on the EchoLink-enabled repeaters and even through EchoLink on my computer or smart phone. Summertime can be an excellent time to start listening on the VHF bands, too. June is typically a good month to experiment with making single side band contacts on the 6 m band. As summer continues to unfold and you get into July and August, you may find that it is possible to make single side band contacts on the 2 m band. If you like CW, you may find others who share your interest on VHF over the summer months. Summertime conditions, while bad for HF operation, can sometimes make for excellent long-distance contacts on VHF.
Another excellent summertime amateur radio activity is to do an antenna assessment and make a list of everything that needs doing to keep your station on the air before the cold winter months arrive. Believe me, I have done antenna work in every single month of the year and it is much easier to strip wires, put on connectors, climb ladders or towers, and handle aluminum tubing during the summer! A big antenna installation almost has to be done in the summer months when there is good weather and adequate daylight after dinner, when help may be available from other radio club members.
Speaking of antennas, I had to take down two of my wire antennas earlier this week. There was a dead tree in the backyard and I had made arrangements with a tree guy to come over and cut it down as well as do some trimming of the other trees around our property here at the home QTH. Well, I was surprised when the tree guy called and told me he had an opening on Monday, so he would be able to come right over that morning and do the work. "Sure", I said, before remembering that both of my wire antennas either ran through the tree that needed to come down or close to it. So I ended up having to rush outside and try to get the antennas down in the half-hour to 45 minutes before the tree crew arrived. That turned out to be a decision point, because I had already taken part in an antenna assessment earlier this summer and with help from my local radio club will get a new, longer wire antenna installed. That made it easy to just go get my extendable tree branch pruner and cut the old antennas right down without doing any climbing. That leaves me with my trusty Butternut nine band HF vertical ground-mounted in the backyard. The good news was that I had already completed my summer maintenance on the vertical and it was ready to go for use as my main HF antenna. It had needed replacement of one section of cracked aluminum tubing and the addition of new radials. Had I not followed my summer plan of getting antenna maintenance started early, I might have been off the air right now except for the VHF and UHF bands.
I guess the moral of the story is that it pays to have a plan and to get things done earlier rather than later when at all possible. You never know what might be coming up later today, next week, next month, or next year. It doesn't hurt to build in a little planning and redundancy when it comes to amateur radio!
But first – Help us win the Dr. Dave Challenge!
Thanks to Diane WI8K, Dan N8OJW, and Gary KB9ZUV for your help this past week. We appreciate your support.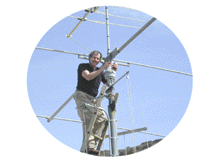 Money is tight these days and we desperately need your support. Now, thanks to a generous challenge grant by Dr. Dave Justis, KN0S, we have a chance to help fill the budget gap. Dr. Dave will donate $5,000 to the Handiham System if we can raise a matching amount. That means we need to really put the fund-raising into high gear! If you can help, designate a donation to Handihams, stating that it is for the "Dr. Dave Challenge". We will keep you posted in our weekly e-letter as to the progress of the fund.
Nancy can take credit card donations via the toll-free number, 1-866-426-3442, or accept checks sent to our Courage Center Handiham address:
Courage Handiham System
3915 Golden Valley Road
Golden Valley, MN 55422
Be sure to put a note saying "Dr. Dave Challenge" somewhere in the envelope or on the note line of the check. If you donate online as detailed toward the end of your weekly e-letter, be sure to designate to Handihams and then send me an email letting me know you donated to the Dr. Dave fund:

[email protected]

.
Thank you so much for your support!
FCC seeks comments on change to allow exam credit for expired Amateur Radio licenses
The FCC is going to entertain the possibility of allowing examination credit for expired ham radio licenses and is seeking comments on the matter. As we know, if your license expires and is beyond the two year grace period, you must start all over again with the Technician exam and work your way back up to whatever your former license level was, taking every exam. The Anchorage VEC has requested this change.
DA 11-1318
Released: July 29, 2011
| | |
| --- | --- |
| | Read more on Handiham.org |
Pat Tice, WA0TDA, is the manager of HANDI-HAM and a regular contributor to AmateurRadio.com. Contact him at

[email protected]

.