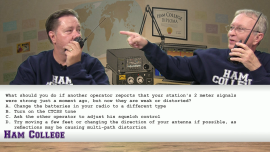 Ham College episode 11 is now available for download.
Tommy and George discuss 'Your First Radio'. More questions and answers from the Technician class question pool. Learn how you can win an Icom T-shirt and cap.
01:06:14
George Thomas, W5JDX, is co-host of AmateurLogic.TV, an original amateur radio video program hosted by George Thomas (W5JDX), Tommy Martin (N5ZNO), Peter Berrett (VK3PB), and Emile Diodene (KE5QKR). Contact him at

[email protected]

.
One Response to "Ham College 11"