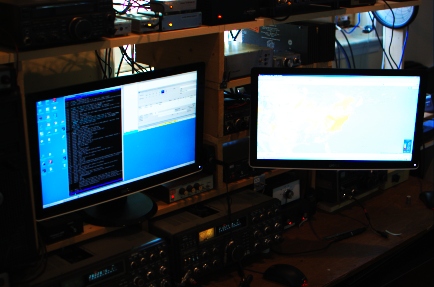 Ever since I replaced my primary station computer (a decision that may be reversed soon—details in a later post), I desired to replace the remaining 19-inch Dell Trinitron CRT monitor with something lighter and smaller.  Mom and Dad were in town a few weeks ago on a much-needed vacation and we went to the National Air and Space Museum's Udvar-Hazy facility near Dulles Airport.  This is only a few miles from one of the best used computer shops in the DC area—CedarPC.
CedarPC is nice because they'll sell you "damaged" stuff at a discount if you don't care about the damage.  I inquired about a 24-inch flat panel I had seen on the web site, but they could not find it.  They did find me a nice 20-inch flat panel that was just missing the stand and the price was right.  The missing stand was no big deal because I wanted to mount the monitor on an arm so I could bring it closer to the HF end of the station desk, tuck it in at the VHF end, or even swivel it out over the couch to watch a DVD.  Sold.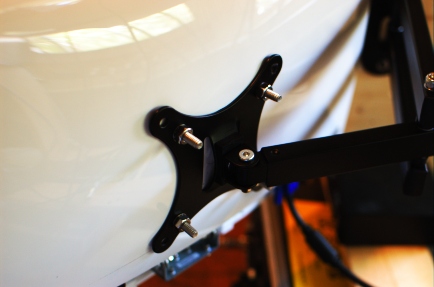 Monitor arms are generally expensive…at least 2-3 times what I paid for the monitor itself, often more.  So, I went to trusty eBay and found something designed for mounting televisions for $15 including shipping.  This did require some modification of the monitor housing and liberal application of wide washers to reinforce the plastic in the housing.  But, it was done with all junkbox screws and washers.
Ethan Miller, K8GU, is a regular contributor to AmateurRadio.com and writes from Maryland, USA. Contact him at

[email protected]

.
3 Responses to "Eliminating CRTs"