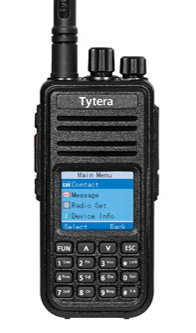 At our radio club meeting on Monday night, I talked about DMR radio, the fastest growing digital format on VHF/UHF. Wow, did I get a positive response! There is a lot of interest in this topic and many of our members are out buying DMR radios and getting on the air. My presentation is available here: DMR W0TLM Meeting Presentation.
Most folks are buying the UHF Tytera MD-380 due to its attractive price point. The price on Amazon seems to fluctuate but it is typically around $100: TYT MD-380 – UHF DMR Ham Radio.  Main Trading Company usually has a good price on the radio, too.
A good source of codeplugs for Colorado is the Rocky Mountain Ham Radio web site. I adapted a recent MD-380 codeplug for use in the Monument area: K0NR Rev 1 RMHAM_MD380_2017-10-28.rdt
You'll need to use the MD-380 software to load/edit this codeplug. See the VA3XPR web site if you need the software. Under General Setting, you must change these entries:
Radio Name – enter your callsign
Radio ID – enter your DMR-MARC radio ID number
Intro Screen – recommend putting your name and callsign there (or whatever you want)
In the codeplug, I created the W0TLM zone for use in the Monument area which should cover most of your needs. After you get used to the programming software, you can add/modify channels and zones. But be careful as there are many parameters that need to be entered correctly.
I will be updating this codeplug from time to time. Let me know how it works for you.
73, Bob K0NR
Update 18 Nov 2017: I updated the codeplug to incorporate the latest RM Ham Radio repeaters. This is based on the latest RM Ham codeplug dated 28 Oct 2017. I highly recommend you adopt the TyMD380toolz so you can just pull all of the worldwide DMR radio ID database into your radio.
The post DMR Codeplug for Tytera MD-380 appeared first on The KØNR Radio Site.
Bob Witte, KØNR, is a regular contributor to AmateurRadio.com and writes from Colorado, USA. Contact him at

[email protected]

.
One Response to "DMR Codeplug for Tytera MD-380"