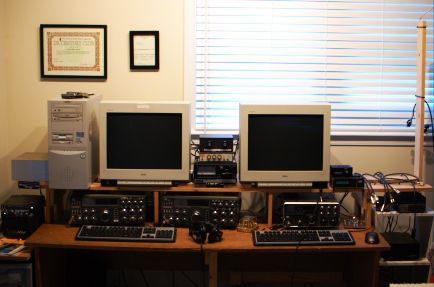 The dog days of summer are here and the contester's mind begins to drift toward…contest season, of course.  What preparations need to be made?  Here at K8GU/3, there are a couple of hardware goals I have to get ready:
Finish building K9AY loop.  I have this scheduled for this weekend.  I want to at least be able to use it on 80 meters in the CW Sprint on 11 (12) September.  This needs one or more W3LPL filters to prevent blowing up my IK4AUY preamp or the RX radio when I'm doing SO2R.  I'm going to implement 80 meters on the left radio to begin with.
Finish building the 50-MHz transverter in time for ARRL VHF on 11-12 September.  I'll be happy with 3-4 watts from this—just enough to move a couple of locals (e.g., W3ZZ or K1RZ) for easy points/mults.
And, as far as mental preparation, I'm operating the weekly NS Ladder.
Ethan Miller, K8GU, is a regular contributor to AmateurRadio.com and writes from Maryland, USA. Contact him at

[email protected]

.