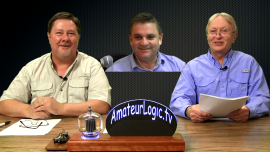 The recording of AmateurLogic.TV episode 66 will be streamed live Saturday morning around 9:00 AM CDT, 1400 UTC (if I am awake). We will have the chat room up as well. Check back here for the links Saturday morning.
The live stream can be found here: Live Stream
The chat room is here: Chat Room
George Thomas, W5JDX, is co-host of AmateurLogic.TV, an original amateur radio video program hosted by George Thomas (W5JDX), Tommy Martin (N5ZNO), Peter Berrett (VK3PB), and Emile Diodene (KE5QKR). Contact him at

[email protected]

.
One Response to "AmateurLogic.TV 66 live Saturday morning"