We will be producing episode 76 of AmateurLogic This Friday night, March 6th at 7:00 CST, 0100 UTC.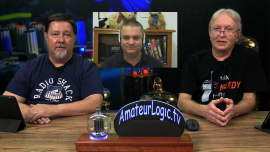 You can watch us shoot it live at www.live.amateurlogic.tv, or download the edited version a couple of days later.
George Thomas, W5JDX, is co-host of AmateurLogic.TV, an original amateur radio video program hosted by George Thomas (W5JDX), Tommy Martin (N5ZNO), Peter Berrett (VK3PB), and Emile Diodene (KE5QKR). Contact him at

[email protected]

.