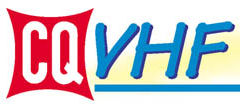 Another "dead trees" publication is coming to an end. CQ VHF Magazine is ceasing publication, with some content being rolled into a new online publication.
From the ARRL web site:
CQ Communications Inc has announced plans to realign its publications lineup and to launch a new online supplement to its flagship magazine, CQ Amateur Radio.

"The hobby radio market is changing," said CQ Communications President and Publisher Dick Ross, K2MGA, "and we are changing what we do and how we do it in order to continue providing leadership to all segments of the radio hobby."

Effective with the February 2014 issue of CQ, said Ross, content from the magazine's three sister publications — Popular Communications, CQ VHF and WorldRadio Online — will be incorporated into CQ's digital edition as a supplement to be called CQ Plus. The print editions of Popular Communications and CQ VHF will be phased out, and WorldRadio Online will no longer exist as a separate online publication. Current Popular Communications, CQ VHF and WorldRadio Online subscribers will be converted to CQ subscribers and receive CQ Plus at no additional charge. Details will be posted on each magazine's website.
As the name implies, CQ VHF was focused on amateur radio activities above 50 MHz, which was well aligned with my interests.  I've been writing the FM column for CQ VHF magazine since the summer of 2005 (wow, has it really been eight years?).  I have really enjoyed this opportunity and found the four-times-a-year schedule to be just about right for me as an author.
All good things come to an end and it was not a surprise that CQ VHF would cease publication. Clearly, print media is struggling in most markets and a niche publication like CQ VHF was feeling the pressure. My thanks go to Joe Lynch N6CL for his leadership as editor and also to my fellow authors for the great content they produced over many years. I am going to miss having the magazine around but it is time to move on.
73, Bob K0NR
Update Jan 2, 2014: See this information at cq-vhf.com
Bob Witte, KØNR, is a regular contributor to AmateurRadio.com and writes from Colorado, USA. Contact him at

[email protected]

.
2 Responses to "Adios to CQ VHF"