Although I've operated a number of VHF contests from the summit of Mount Herman, I had not yet activated it as a Summits On The Air (SOTA) peak. Mount Herman is a 9063 foot mountain just to the west of Monument, Colorado, pretty much in "my back yard." Steve WG0AT did the first SOTA activation of Mount Herman, back in May 2010, chronicled here in one of his famous videos.  There is a sometimes rough Forest Service Road 320 that leads to the trailhead, then it's a little more than a one mile hike to the top with 1000 feet of elevation gain. I call it a tourist hike, since it has just enough challenge to make it feel like a climb and there's a great view at the top. At least on most days.
I was not expecting much of a view today since low rain clouds were dominating the sky. I was just hoping I would not get completely drenched by rain. The weather was definitely marginal but from my house I saw the clouds lift a bit, so I thought it was worth a try. The ARRL September VHF Contest is also this weekend, so it was a great combo opportunity: SOTA + VHF Contest.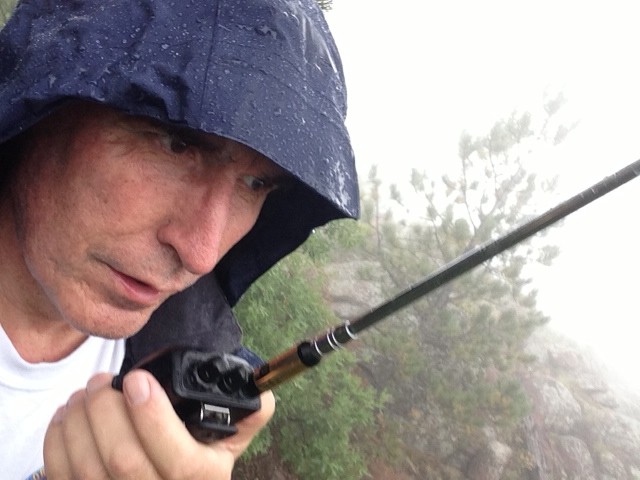 I hopped in the Jeep and quickly made the drive to the trailhead. Then I scooted on up the trail, making it to the summit in about 30 minutes. Just as I reached the summit, the rain really kicked in. I set my gear down under a tree, got out my HT, attached the 1/2-wave antenna and started calling on 147.42 MHz. I wanted to bag my four SOTA qualifying contacts in case the weather turned worse. I quickly worked Frank K0JQZ and Steve WG0AT. Then George AB0YM, operating as a rover in the VHF contest called me from grid DM78, so I worked him as well.
I had my trusty Arrow Yagi antenna with me but I didn't want to bother with assembling it in the rain. I got out the FT-817, put a vertical antenna on it and called on 144.200 USB. I found stations working the VHF contest and completed QSOs with them: WB0RRU and K3ILC.
The rain intensified so I abandoned the summit and headed back down. All in all, it was not a great hike but I was successful in activating Mount Herman.
73, Bob K0NR
Bob Witte, KØNR, is a regular contributor to AmateurRadio.com and writes from Colorado, USA. Contact him at

[email protected]

.
One Response to "A Soggy Mount Herman SOTA Activation (W0/FR-063)"