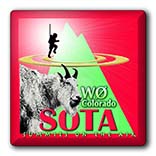 For the long Labor Day weekend, Joyce (K0JJW) and I headed to the cabin in the mountains. My main objective was to work the Colorado QSO Party. See previous post.
When in the mountains, I try to remember to monitor 146.52 MHz. You never know who might show up on that frequency…some of the locals chatting, a mobile station passing through, people camping or…a SOTA (Summits On The Air) station.
Sure enough, on Saturday, I heard Eric (W0ECE) calling from the summit of Mount Evans on 146.52 MHz. Joyce and I gave him a SOTA contact (and I got a new county for the CO QSO Party). Then, on Sunday morning, we heard Dave (KI6YMZ) calling from the summit of Mount Shavano, also on 146.52 MHz. We were mobile at the time and both of us worked Dave to give him two contacts. Then on Monday morning, again listening to 146.52 MHz, we heard Bob (AD6QF) on Quandary Peak. We handed out two more contacts.
Sometime on Monday morning, we started thinking of doing a hike. That led to the idea of hiking up Kaufman Ridge North (W0/SP-085), a SOTA peak about 2 miles from our cabin. It had not been activated before,  so that seemed like a good idea.
Except for the fact that I did not bring along any of my SOTA gear. (Note to self: whenever you are in the mountains, take along the SOTA gear.) I scrounged around the cabin and found a dualband HT with fully charged battery. Unfortunately, the only antenna was the rubber duck. (The World's Most Convenient Crummy Antenna.)
Oh, what the heck, we gave it a try anyway. It was an easy climb to the summit. I got out the HT and called on 146.52 MHz. I quickly got a reply from Ben (KD0ELP) and Mark (KE0P). A little more calling and I raised Jerry (N0VXE) in Salida, CO. To get the minimum four contacts, I tried calling on two of the local repeaters and found Dave (K0HTX) who QSY'd to 446.00 MHz for a simplex contact with me. That made it an official SOTA activation, so we headed down the mountain.
A good weekend for SOTA activity. Keep listening on 146.52 MHz.
73, Bob K0NR
Bob Witte, KØNR, is a regular contributor to AmateurRadio.com and writes from Colorado, USA. Contact him at

[email protected]

.