After missing it for several years, I managed to attend the Dayton Hamvention this year. This is the largest amateur radio event in the world, so definitely an event to attend if you are into ham radio. I had some concern about going the first year in the new Xenia location, but frankly I was never a fan of Hara Arena so I figured I'd give it a try. I met up with best budd Denny (KB9DPF) in Fort Wayne and we drove down Friday night, attending the event on Saturday and Sunday.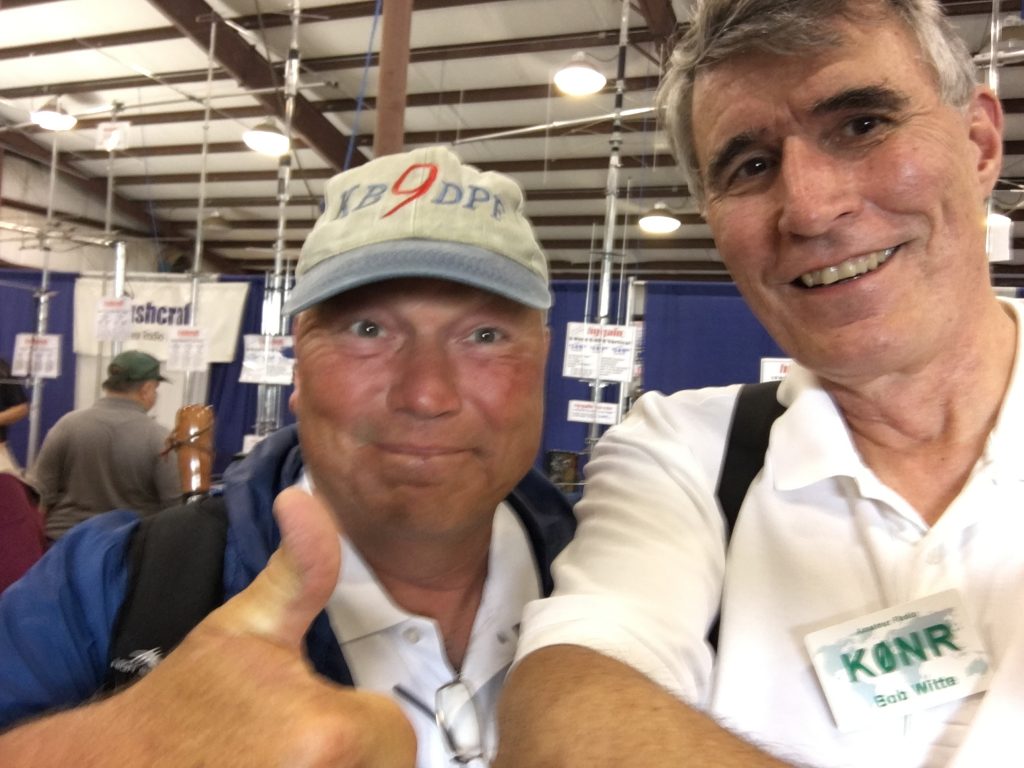 The short story is that we had a blast and the new location is an improvement over Hara (which is, of course, an easy compare).
We went early on Saturday morning, arriving at the fairgrounds around 8 AM (for a 9 AM start time). No traffic issues, easy access to parking. On Sunday we left a little later, arrived at 8:30 AM, again no traffic issues. (I suspect the traffic problems we've heard about were associated with arriving from the west, coming from Dayton. Also, that problem seemed to be mostly on Friday morning.)
Positives:
Most of the buildings were in good shape [insert disparaging comment about Hara].
Most of the buildings are not air conditioned but it seemed to be comfortable enough.
The usual vendors were there…I couldn't think of any didn't show.
The food selection was very good…basically "county fair style" vendors. For example, I had Louisiana style chicken, red beans and rice for lunch on Saturday.
The forum rooms were pretty decent, as in large and convenient  [insert disparaging comment about Hara]
I attended a few forums (all good): contesting, AMSAT, NPOTA
Parking was convenient and no charge.
Negatives:
The flea market was a muddy mess, so we skipped that completely. Those that went out there came back with shoes covered with mud. (I saw one guy that came prepared with 18-inch high rubber boots. Smart move.) I've seen lots of comments on the web about "well, you can't control the weather so you just have to deal with the mud." Yes, you can't control the weather but even Hara had a paved parking lot for the flea market. Read: no mud.
All of the food vendors were outside and there was little to no sheltered seating. If the rain had hit around lunch time, I am not sure where people would have eaten.
All in all, not too bad.
I'm sure they'll be getting lots of feedback and will be working on the problem areas. I think you have to accept the fact that on a weekend in May in Ohio, you will get some rain. So something has to be done about the flea market, else its mud city most years.
Seriously, I think the Dayton Amateur Radio Association (DARA) pulled off a minor miracle getting Hamvention moved to a new location without a major problem. They had a well-oiled machine that knew how to make it happen at Hara but everything had to be reworked this year.
People often ask "well, why do they even hold such a major event in Dayton?"
The answer: because that's where DARA is.
73, Bob K0NR
The post 2017 Hamvention Report (K0NR) appeared first on The KØNR Radio Site.
Bob Witte, KØNR, is a regular contributor to AmateurRadio.com and writes from Colorado, USA. Contact him at

[email protected]

.
6 Responses to "2017 Hamvention Report (K0NR)"