I just received some good news from Mike, WA9PIE.  He writes in an email:
The first release of Ham Radio Deluxe for 2018 (Ham Radio Deluxe version 6.4.0.794) is now available for download. Please download it from the Download pages on our website at:
This release includes a number of important changes including the addition of the Icom IC-7610, resolves a Logbook exit problem, resolves "sort on LOTW date", API for QSO Forwarding now populates Logbook with My Station data, a number of fixes for the Kenwood TS-480, applications remember screen position, enable CI-V address to be entered directly, and a number of stability enhancements.
The full release notes can be found here:
http://ReleaseNotes.Ham-Radio-Deluxe.com
I would like to acknowledge and thank Mike Blaszczak (K7ZCZ) and our beta team on their hard work in getting this release out.
All those who have purchased Ham Radio Deluxe at any time in the past should download and install this version in order to benefit from all bug fixes. You are entitled to them. Our clients who are covered by an active Software Maintenance and Support period are entitled to Feature Enhancements.
As announced previously, we expect to release as many as 9 releases in 2018. There will be no releases between 1-Nov and 1-Jan. We continue to focus on reducing our development backlog with five developers dedicated to all applications in the suite.
Please watch these newsletters for updates. Pass these updates along to your friends. Newsletters will also be posted on our website's blog at:
https://www.Ham-Radio-Deluxe.com/blog
Thank you es 73 de Mike, WA9PIE
HRD Software, LLC
Tomas Hood, NW7US, is a regular contributor to AmateurRadio.com and writes from Nebraska, USA. Tomas is the Space Weather and Radio Propagation Contributing Editor to 'CQ Amateur Radio Magazine', 'The Spectrum Monitor', and 'RadioUser UK Magazine'.
Tandberg Huldra 10
Tasos, SV8YM, has written about "
The Mysterious Case of the Withering Filters
". This seems to affect not only ham radio transceivers, but FM stereo receivers as well.
Tandberg from the 70's are collectors items and since I actually worked one summer at Tandberg in the early 70's they bring back good memories for me. The latest generation of receivers (
2nd version of Huldra 10, Huldra 11, and Huldra 12
) had ceramic filters for the 10.7 MHz intermediate frequency for FM. It is also known that these filters deteriorate leading to reduced sensitivity over time.
SV8YM has pointed out that ceramic filters deteriorate due to DC on the terminals, especially the output terminal and that this leads to electromigration. In the Huldra 10, both filters have 7.1 V DC on the input. Filter F1 has 0 V DC on the output, while F2 has 2.1 V on the output.
Old filters (left) and new filters
As I got ready to replace mine with new Murata filters (SFELF10M7GA00-B0, 230 kHz bandwidth), I read the same warning in their
specifications
, which says: "
For safety purposes, connect the output of filters to the IF amplifier through a D.C. blocking capacitor. Avoid applying a direct current to the output of ceramic filters.
"
I also noticed that the filters had been replaced before. To be sure, I added three coupling capacitors (10 nF - 0.01 uF). This value has a reactance of 1/(2 pi 10.7e6 0.01 e-6) = 1.5 ohms which is negligible compared to the 330 ohm termination impedance. They were surface mount capacitors which is quite some upgrade as they perhaps were not even invented when this receiver was designed. They were fitted under the PCB by cutting the appropriate trace. Whether this has any long-term effect I don't know, as the Huldra 10 at the age of 40 years is beyond its design life anyway.
My somewhat inaccurate oscilloscope measurements indicated that the passband attenuation in F1 was reduced from 7 to 4 dB and in F2 from 9 to 2 dB, in total maybe as much as 10 dB gain. FM sensitivity seems to have been restored to normal value after this replacement, so it was well worth the effort.
The three new 10 nF coupling capacitors, circled in red
The two filters, circled in red
Sverre Holm, LA3ZA, is a regular contributor to AmateurRadio.com and writes from Norway. Contact him at

[email protected]

.
In this episode, Martin M1MRB is joined by Edmund Spicer M0MNG, Leslie Butterfield G0CIB, Bill Barnes N3JIX and Chris Howard M0TCH to discuss the latest Amateur / Ham Radio news. Colin M6BOY rounds up the news in brief, and this episode's feature is - Book Review 2018
We would like to thank our monthly and annual subscription donors for keeping the podcast advert free. To donate, please visit - http://www.icqpodcast.com/donate
Ada Lace Book Features Ham Radio
Experimental Homebrew Equipment Does Not Require Type Approval
Radio Hams Assist GirlGuides to go International
Maplin Collapses as Rescue Talks Fail
Shoe Tap to Morse Code
New Swedish Driving Law to Effect Amateur Radio
Argentinian Balloon Flight Completes 2nd Round World
MacLoggerDX Version 6.17 Released
Colin Butler, M6BOY, is the host of the ICQ Podcast, a weekly radio show about Amateur Radio. Contact him at

[email protected]

.

ARRL requests expanded HF privileges for Technician licensees
ARRL has asked the FCC to expand HF privileges for Technician licensees to include limited phone privileges on 75, 40, and 15 meters, plus RTTY and digital mode privileges on 80, 40, 15, and 10 meters.
ARRL
A KX2 to FT-818 comparison
In terms of form factor, the 818 is essentially unchanged from the 817. So it's worth asking again: just how "ultra portable" can an HF radio be?
W2LJ QRP
N8RMA's 2018 State of Hobby
I'm hosting my own survey, to collect the opinions from the community on topics that I care about. 2017 Results.
N8RMA
UCF to manage Arecibo Observatory
A consortium led by the University of Central Florida will start formal transition activities to take on the management of the National Science Foundation's Observatory.
University of Central Florida
Keep the faith, having fun with no sunspots
Keep the Faith. Go call CQ. I was glad I did.
AmateurRadio.com
Instant GNU Radio
A customizable, programmatically generated VM and live environment for GNU Radio.
bastibl.net
Finding noise with an antenna
The main culprit in K5ACL's house is the ceiling light that's right there in the shack.
Hack A Day
Morse code shoes send toe tapping texts
A pair of smart shoes has been created to let industrial workers keep in touch via toe-typed coded messages.
BBC
Video
Point to point networking line of sight in Google Earth
How to make straight lines to see if there's a line of sight between our point to point 5Ghz nodes. The google earth 3D buildings and terrain are insanely accurate and useful for line of sight analysis.
N0SSC
Soldering 101
See all sorts of soldering devices and learn how it's done with lots of tips and techniques.
KE0OG
Amateur Radio Weekly is curated by Cale Mooth K4HCK. Sign up free to receive ham radio's most relevant news, projects, technology and events by e-mail each week at http://www.hamweekly.com.
It's the IC-7610 video you've been waiting for…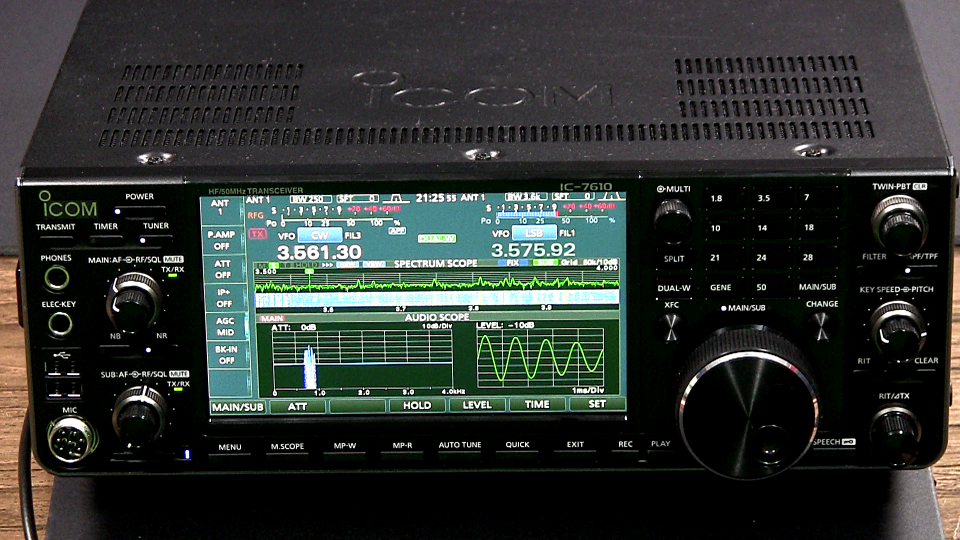 Ray Novak, N9JA joins George, W5JDX and Tommy, N5ZNO of AmateurLogic.TV for an in depth look at the new IC-7610.
Lots of detailed information about this great new transceiver plus comparisons with the IC-7600 and IC-7300.
View on YouTube .
George Thomas, W5JDX, is co-host of AmateurLogic.TV, an original amateur radio video program hosted by George Thomas (W5JDX), Tommy Martin (N5ZNO), Peter Berrett (VK3PB), and Emile Diodene (KE5QKR). Contact him at

[email protected]

.
NooElec and AmateurRadio.com have picked the winners of our
March 2018 NooElec Giveaway!
Prize Package Winners
Jon KD9AMP
HackRF Bundle
w/ aluminum enclosure, TCXO module & ANT500 antenna
Ted KK4LXY
Ubertooth Bundle
w/ aluminum enclosure
Len KA1LOR
Jan ZS6VOL
NESDR SMArt HF Bundles
Amazon Exclusive
Viktor UA6ATG
Dean K6DIN
John WA3UHZ
Ham It Up Plus HF Upconverters
Del KG6LS
George AB2MI
Arne K5ARN
Ham It Up Plus Upconverter PCBs
Jason KE7IET
Michael N0PDG
Randy K4LJA
Joe K0NEB
Ville OH2VSY
NESDR Nano 3 OTG Bundles
Phil KU0Z
James WU7G
Jerry W3CDE
Justin KN4JZB
Ryan WC6Q
Flamingo AM & FM Filter Bundles
Matt KD9AEZ
Kevin KF7MF
Igor RA3XDX
Bob W2RWM
Jeff VE6DV
NESDR SMArTee SDR Bundles
Geoff G8BMI
Jeff KD3AR
Kevin M0XLT
Bruno W6USC
George DU1GM
SMA Cable Connectivity Kits
Guido LU8EQ
Paul KG7OWO
Vladamir RV9U
Lowell NE4EB
Keith KN4CRI
Craig KO5S
John KK4QYM
John KI4CFH
Mika KF4IVM
Dean KC9REN
NESDR SMArTee SDRs
Stewart KM4APN
Stormy AA1ES
John KB5HCT
Bill KD5YYK
Peter G4EYV
SMA Adapter Connectivity Kits
Mark KG5HEM
JoAnne K9JKM
John WI6P
Robert VE3TXF
Lynette MI3WLW
Ratlsnake M5 Antenna Bundles
 Claiming Your Prize
Winners will be receive an e-mail shortly.
We must hear back from you by Saturday, 3 March 2018 at 20:00.
You can get future winner announcements by
subscribing to our free Amateur Radio Newsletter (subscribe below),
following our posts via RSS feed, via Twitter (@amatradio),
or via Facebook (facebook.com/amatradio).
Sign up so you won't miss our next prize drawing!
Thank you to NooElec for offering these fantastic prizes!
Visit their website at NooElec.com / eBay store / Amazon store
Please follow NooElec on Facebook and Twitter for the latest news about their great products!
Matt Thomas, W1MST, is the managing editor of AmateurRadio.com. Contact him at

[email protected]

.
I was motivated to write this today after looking at the solar flux number which sat at 67. I don't know if I've ever seen the flux this low. I think I've seen 68 a lot, but not 67. Truly, things must be really bad.
As it would happen today, with the flux at 67, I did my 258th SOTA activation on a summit near Santa Fe, NM that has no name, but goes by it's elevation, 8409. There are beautiful views in every direction, from the summit of 8409, and I enjoyed them immensely. With me, on my trek up the mountain, was my KX2, a 21ft. collapsible pole to support a 29 ft. piece of wire through an 81 to 1 transformer. I feed the antenna about a foot above the ground and run the wire up the pole in an inverted L configuration. The pole was propped up among the branches of a pine tree and I tied off the antenna to a close-by pine branch. I had the power set to 5 watts and tuned the wire with the KX2. I operated CW using the Elecraft plug-in paddle and I logged with a golf pencil on a, write in the rain, index card. The temperature was a crisp 39 degrees, but the sun was shining and not wisp of a breeze. It was a good day to be on the mountain top.
I was on the air from 1642z - 1722z. I operated on 40, 30m, 20m and 17m and completed 40 QSO's in the 40 minutes that I was on the air from 8409. Also, with the flux at 67, I managed to work two EU stations, ON and EA. I heard a 9A calling me but we couldn't complete the contact. So, 40 QSO's, coast to coast in the US and 2 DX QSO's from EU was my catch for the day. Not bad for a short QRP/portable outing. Keep in mind that's with the flux at 67. I'm glad I didn't look at the numbers before I left or I might have been a bit discouraged and perhaps wouldn't have gone out at all. I would have missed the beautiful views, the warming sunshine and a QSO a minute QRP operation. I wouldn't have worked EU with 5 watts and a wire. I would have had to put off my 258th SOTA activation for another day.
The moral of this story is simple, don't look at the numbers. In fact I would recommend that you ignore them. There is plenty of fun to be had keying up your radio even when conditions, or at least the numbers, are this bad.
Keep the Faith. Go call CQ. I was glad I did.
Mike Crownover, AD5A, is a regular contributor to AmateurRadio.com and writes from Texas, USA. Contact him at

[email protected]

.