Ham College episode 35 is now available for download.
General Amateur Radio Exam part 6. Selecting a frequency. AM, FM and Sideband demonstration. Impedance.
01:08:03
George Thomas, W5JDX, is co-host of AmateurLogic.TV, an original amateur radio video program hosted by George Thomas (W5JDX), Tommy Martin (N5ZNO), Peter Berrett (VK3PB), and Emile Diodene (KE5QKR). Contact him at

[email protected]

.
Where did the site
Band conditions
go?? I have this site as one of my tabs on the blog and it either seems the link has been changed, the site is temporally down or it's gone? Does anyone have info on this maybe I missed the memo about a new link to the site?
Mike Weir, VE3WDM, is a regular contributor to AmateurRadio.com and writes from Ontario, Canada. Contact him at

[email protected]

.
In this episode, Martin is joined by Chris Howard M0TCH Martin Rothwell M0SGL Dan Romanchik KB6NU and Ed Durrant DD5LP  to discuss the latest Amateur / Ham Radio news. Colin M6BOY rounds up the news in brief, and this episode's feature is Active Receive Antennas.
We would like to thank our monthly and annual subscription donors for keeping the podcast advert free. To donate, please visit - http://www.icqpodcast.com/donate
The ARRL International Grid Chase
Dutch Regulator takes Enforcement Action
December YOTA Event
First Berlin Built D-Star Satellite
Southwestern Division Director Censured by ARRL
SDR pioneer Dr. Vanu Gopal Bose SK
Iceland to End Amateur/Ham Radio Callsign Discrimination
Copper Shortage to Raise PCB Prices
Colin Butler, M6BOY, is the host of the ICQ Podcast, a weekly radio show about Amateur Radio. Contact him at

[email protected]

.
Walt/W0CP had recommended this Summits On The Air (SOTA) summit (W0C/SP-076) to me a while ago. Somehow it had escaped my attention, probably because it's an unnamed peak and not that well known. Joyce/K0JJW and I decided to give it a try today and it turned out great.

We followed Walt's directions on the SOTA website, using the southern route. We were pleasantly surprised to find a pretty good trail most of the way to the summit. There were a few spots with downed timber, where people have diverted around the logs, but generally the trail was easy to follow. The trail is not shown on many maps, including the USFS San Isabel Forest map. Thus, I was expecting considerable bushwacking to get to the summit.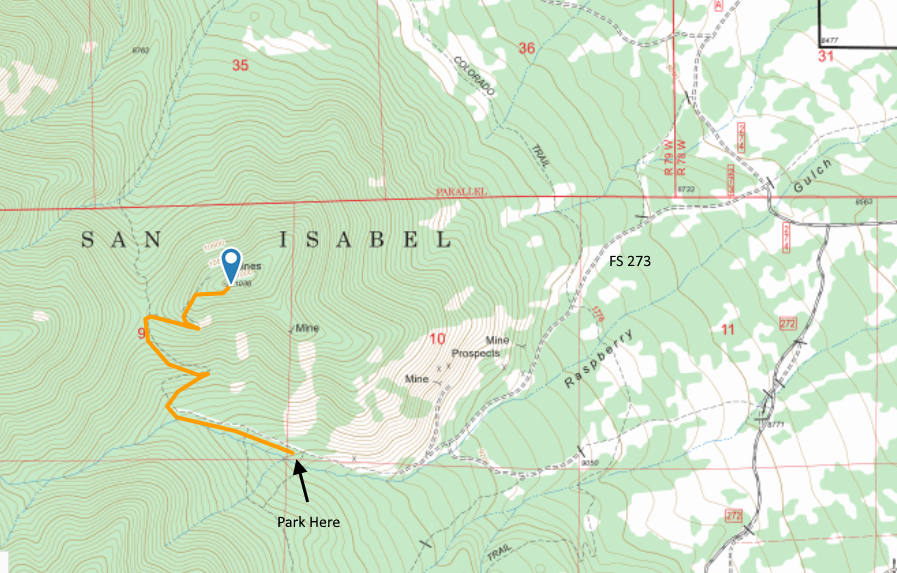 The route to the trailhead is via FS Road 273, easily accessible from Highway 285 south of Buena Vista and north of Salida. See the San Isabel National Forest map for orientation. The road is narrow in spots. Our Jeep Wrangler fit OK but a wider vehicle would get to deal with the brush on both sides of the road.  The road is easy 4WD and should be passable with a high-clearance 2WD vehicle. The road had some snow on it (Nov 25, 2017) and with a few more snowstorms may not be passable.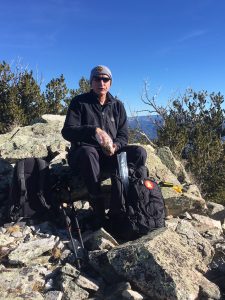 The road continues a little further than indicated on our topo map but it is obvious when it ends. After that, the road turns into a nice trail (our route shown on the map above). The trail has a few broad switchbacks that made for easy hiking. When we got near the summit, the trail was covered by many small snow drifts, so we opted to go off trail and just head for the summit. So our last quarter mile or so is probably not optimal for summer hiking. There are several mines at or near the top of the mountain.
We had quite a variety of radios with us, for 2m, 1.25m, 70 cm and 23 cm, FM only. We started on the workhorse band (2m FM) with the 25W Tytera radio and a vertical half-wave antenna. It seems that someone (me) left the 3-element 2m yagi antenna at home. We quickly made contacts with KD0MRC, W0BV, KD0VHD, KE0DMT and KL7GLK on 2m and/or 70 cm. I used my Alinco 222 MHz handheld to work KD0MRC on 223.5 MHz, which is apparently the first 222 MHz SOTA contact in Colorado. (Yeah, not a popular band.)
For the most part, it was pleasant on the summit, about 40 degrees F, but it got cold whenever the wind picked up. Without the wind, it was great. With the wind, kind of cold.
This is a great hike and a great summit. Only a few people have activated it for SOTA, so I wanted to write it up for others to consider. We will definitely return to this one due to it's excellent combination of easy accessibility, good trail and wonderful views.
73, Bob K0NR
The post Hidden Gem: W0C/SP-076 Unnamed SOTA Summit appeared first on The KØNR Radio Site.
Bob Witte, KØNR, is a regular contributor to AmateurRadio.com and writes from Colorado, USA. Contact him at

[email protected]

.

Millennials are killing Ham Radio
Maker Movement, digital modes are killing the hobby.
N0SSC
Is the Internet destroying Amateur Radio?
Although there are plenty of "keep the internet out of amateur radio" folks in the hobby, there are many more that have found clever ways to make use of the internet.
K0NR
FT-8: I'm not really feeling the magic
If you're one of those guys who wants to make contacts, but doesn't really want to talk to anyone, then this is the mode for you.
KB6NU
Best digital mode…? Not really
I have yet to download the latest WSJT-X release, as I presently have no need, nor see the need to use FT8.
AmateurRadio.com
AO-91 satellite declared open for Amateur use
AO-91 was built as a partnership with Vanderbilt University featuring the Fox-1 style FM U/v repeater with an uplink on 435.250 MHz (67.0 Hz CTCSS) and a downlink on 145.960 MHz.
AMSAT
NASA On the Air for 2018
Club stations at NASA facilities plan to be on the air with special events to celebrate these milestones and we are offering commemorative QSL cards and a special certificate.
NASA On The Air
Bitcoin and weak frequency signals
Two individuals introduced a project which secures consensus proofs with weak signal radio propagation.
Bitcoin.com
Ignored by telecoms, Detroit residents are building their own Internet
40 percent of Detroit residents don't have any access to internet at all.
Motherboard
Junker: Unfortunate name for a great key
The Junker D.B.G.M. is one of the finest telegraph keys ever manufactured.
Ham Radio QRP
A photographic tour of Universal Radio's new location
In October, Universal Radio moved from their large Reynoldsburg, Ohio retail store and warehouse to a smaller retail store and warehouse at 651-B Lakeview Plaza, Worthington, Ohio.
The SWLing Post
Video
Amazon Alexa and Amateur Radio
APRS, DMR, learning CW, and more with Amazon Alexa.
Essex Ham
AO-91 RX via Baofeng
YouTube
Tuning 40m in low noise location
I've spent a couple of days at a very low noise location. Here's me tuning 40m in the afternoon.
YouTube
All WX solar powered Amateur Radio field station
The concept for a rapidly deployable, man-portable field station, came to me after the grid down disaster caused by Hurricane Maria.
OH8STN
Amateur Radio Weekly is curated by Cale Mooth K4HCK. Sign up free to receive ham radio's most relevant news, projects, technology and events by e-mail each week at http://www.hamweekly.com.
LU - 214 KHz
Thi
s coming weekend will see another monthly CLE challenge. This time the hunting grounds will be:
190 - 239.9 kHz
PLUS normal NDBs on 'half-way' frequencies nnn.5 kHz (from
190.5 - 999.5 kHz
).
For those unfamiliar with this monthly activity, a 'CLE' is a 'Co-ordinated Listening Event', as NDB DXers around the world focus their listening time on one small slice of the NDB spectrum.
A nice challenge in this one is to hear the Abbotsford (BC) NDB, 'LU', on 214 kHz. This is the beacon associated with Abbotsford Int'l Airport, Vancouver

International's

alternate for foggy conditions. It is located in a breathtaking mountain meadow location at the foot of the North Cascade Mountains. It's 500W Nautel drives a 100' vertic

al and with all of that space, I suspect a very robust ground system.
'

LU

'

gets out very well and has been heard from Hawaii to New England and should be a good propagation indicator for many North American participants.

Look for '

LU

's upper-sideband CW identifier, repeated every 10.

4

seconds, on

214.404

kHz with your receiver in the CW mode.
Usually November provides some excellent propagation as the summer thunderstorms have pretty much run their course but the recent warning of upcoming geomagnetic activity may, once again, mean something else in store for us. Often these 'warnings' are not as dire as they might appear and MF propagation remains robust or even enhanced.
If you are interested in building a system for the new (U.S.) 630m band, the CLE will give you the chance to test out your MF receiving capabilities and compare against what others in your area might be hearing.
When tuning for NDBs, put your receiver in the CW mode and listen for the NDB's CW identifier, repeated every few seconds. Listen for U.S. NDB identifiers approximately 1 kHz higher or lower than the published transmitted frequency since these beacons are modulated with a 1020 Hz tone approximately.
For example, 'AA' in Fargo transmits on 365 kHz and its upper sideband CW identifier is tuned at 366.025 kHz while its lower sideband CW ident can be tuned at 363.946 kHz. Its USB tone is actually 1025 Hz while its LSB tone is 1054 Hz.
Often, one sideband will be much stronger than the other so if you don't hear the first one, try listening on the other sideband.
Canadian NDBs normally have an USB tone only, usually very close to 400 Hz. They also have a long dash (keydown) following the CW identifier.
All NDBs heard in North America will be listed in the RNA database (updated daily) while those heard in Europe may be found in the REU database. Beacons heard outside of these regions will be found in the RWW database.
From CLE organizer Brian Keyte, G3SIA, comes the usual 'heads-up':
Hello all,
Do try not to miss our 225th co-ordinated listening event - it starts this
Friday at midday. We can hope for good conditions, some comfortable
listening and opportunities to catch some good DX.
This should be ideal to try out a CLE for the first time.
Days: Fri. 24 - Mon. 27 November, Midday-Midday, your local time
Frequencies: 1) NDBs from 190 - 239.9 kHz
PLUS: 2) Normal NDBs on 'half-way' frequencies nnn.5 kHz
(from 190.5 - 999.5 kHz)
So for all of us it is a CLE in two parts - the first part is hunting for
the NDBs whose published frequencies are lower than 240 kHz.
The second part is hunting for the NDBs whose carrier frequencies
are 'half-way'. E.g. 284.5 DY, 333.5 VOG, 370.5 LB, 381.5 SJX (in MI),
390.5 ITR, 433.5 HEN ( Not nnn.6, etc. )
'Normal' NDBs - no DGPS, please.
(Most Europe listeners will hear few or none from part 1, while
listeners away from Europe will hear few or none from part 2)
The Seeklists from REU/RNA/RWW will help you – you will find them
from the link on the CLE page http://www.ndblist.info/cle.htm
Please send your CLE log to the List, if possible as a plain text email and
not in an attachment, showing 'CLE225' at the start of its title. (Loggings
from both parts can be shown together in the same list if you wish)
Please include on EVERY line of your log:
# The date (or just the day 'dd') and UTC (days change at 00:00 UTC).
# kHz - the beacon's nominal frequency.
# The Call Ident.
It is important to show those main items FIRST - any other optional
details such as Location, Distance, etc. go LATER in the same line.
Don't forget to give your OWN location and details of your receiver and
aerial(s), etc. Others will be interested to know, especially new members
- and old ones with memories like mine!
Also, please ALWAYS send your last log with 'FINAL' in the subject.
## That is important even if you send no interim logs ##
Listening on the 'half-way' frequencies means we might also catch some
interesting non-CLE beacons - please tell us about those too, but in a
separate list. If any of them are UNIDs whose carriers seem to be on
'half-way' frequencies include them in your main list of course.
Joachim and I will be processing the incoming logs – please look out for
our 'Any More Logs?' email at about 18:00 UTC on Tuesday evening,
with a list to let you check that your log has been found OK.
Joachim will again be making the combined results for us.
Do make sure that your log has arrived on the NDB List at the very latest
by 09:00 UTC on Wednesday 29 November.
Good listening
Brian
----------------------------------------------------------
From: Brian Keyte G3SIA ndbcle'at'gmail.com
Location: Surrey, SE England (CLE Coordinator)
----------------------------------------------------------
(If you wish you could use any one remote receiver for your loggings,
stating the location and owner – and with their permission if required.
A remote listener may NOT also use another receiver, local or remote,
to make further loggings for the same CLE.
These listening events serve several purposes. They:
determine, worldwide, which beacons are actually in service and on-the-air so the online database can be kept up-to-date
determine, worldwide, which beacons are out-of-service or have gone silent since the last CLE covering this range
will indicate the state of propagation conditions at the various participant locations
will give you an indication of how well your LF/MF receiving system is working
give participants a fun yet challenging activity to keep their listening skills honed
Final details can be found at the NDB List website, and worldwide results, for every participant, will be posted there a few days after the event. If you are a member of the ndblist Group, results will also be e-mailed and posted there.
The very active Yahoo ndblist Group is a great place to learn more about the 'Art of NDB DXing' or to meet other listeners in your region. There is a lot of good information available there and new members are always very welcome. As well, you can follow the results of other CLE participants from night to night as propagation is always an active topic of discussion.
You need not be an ndblist member to participate in the CLEs and all reports, no matter how small, are of much value to the organizers.
'First-time' logs are always VERY welcome!
Reports may be sent to the ndblist or e-mailed to either myself or CLE co-ordinator, Brian Keyte (G3SIA), whose address appears above.
Please ... give the CLE a try ... then let us know what NDB's can be heard from your location! Your report can then be added to the worldwide database to help keep it up-to-date.
Have fun and good hunting!
__._,_.__
Steve McDonald, VE7SL, is a regular contributor to AmateurRadio.com and writes from British Columbia, Canada. Contact him at

[email protected]

.
For those of you who have dived into the crowded but fun pool of FT8 operation or one of the other Joe Taylor modes (such as JT65 or JT9) and are excited now about digital modes, here's something you might enjoy, too.  Unlike those modes that allow you to make quick work of getting DX stations into your logbook, simply by exchanging callsigns, a signal report, and a grid square, there are other modes that offer keyboard-to-keyboard conversational QSO opportunities.
One such mode is known as Olivia and this mode offers keyboard-to-keyboard chatting for when you want to relax, and maybe make a friend.  Ham radio is the oldest electronic social networking infrastructure.
In 2005, SP9VRC, Pawel Jalocha, released to the world a mode that he developed starting in 2003 to overcome difficult radio signal propagation conditions on the shortwave (high-frequency, or HF) bands. By difficult, we are talking significant phase distortions and low signal-to-noise ratios (SNR) plus multipath propagation effects. The Olivia-modulated radio signals are decoded even when it is ten to fourteen dB below the noise floor.  That means that Olivia is decoded when the amplitude of the noise is slightly over three times that of the digital signal!
Olivia decodes well under other conditions that are a complex mix of atmospheric noise, signal fading (QSB), interference (QRM), polar flutter caused by a radio signal traversing a polar path. Olivia is even capable when the signal is affected by auroral conditions (including the Sporadic-E Auroral Mode, where signals are refracted off of the highly-energized E-region in which the Aurora is active).
Currently, the only other digital modes that match or exceed Olivia in their sensitivity are some of the modes designed by Joe Taylor as implemented in the WSJT programs, including FT8, JT65A, and JT65-HF–each of which are certainly limited in usage and definitely not able to provide true conversation capabilities.  Olivia is useful for emergency communications, unlike JT65A or the newly popular FT8.
Here is a demonstration of a two-way transmission using the Olivia digital mode on shortwave. I am in QSO (conversation) with KA5TPJ. There are two other Olivia QSOs just below our frequency. Just above us is a lot of FT8 activity. Below the two other Olivia QSOs are PSK31 QSOs. The band is active. Olivia is not dead!
The standard Olivia formats (shown as the number of tones/bandwidth in Hz) are 8/250, 8/500, 16/500, 8/1000, 16/1000, and 32/1000. Some even use 16/2000 for series emergency communication. The most commonly-used formats are 16/500, 8/500, and 8/250.  However, the  32/1000 and 16/1000 are popular in some areas of the world and on certain bands.
This can cause some confusion and problems with so many formats and so many other digital modes. After getting used to the sound and look of Olivia in the waterfall, though, it becomes easier to identify the format when you encounter it.  To aid in your detection of what mode is being used, there is a feature of many digital-mode software implementation suites: the RSID. The video, below, is a demonstration on how to set the Reed-Solomon Identification (RSID) feature in Ham Radio Deluxe's Digital Master 780 module (HRD DM780).
I encourage ALL operators in any digital mode such as Olivia, set the RSID feature on as shown in this example.  In Fldigi, the RSID is the TXID and RXID (I believe).
Please make sure you are using the RSID (Reed Solomon Identification – RSID or TXID, RXID) option in your software.  RSID transmits a short burst at the start of your transmission which identifies the mode you are using.  When it does that, those amateur radio operators also using RSID while listening will be alerted by their software that you are transmitting in the specific mode (Olivia, hopefully), the settings (like 8/250), and where on the waterfall your transmission is located.  This might be a popup window and/or text on the receive text panel. When the operator clicks on that, the software moves the waterfall cursor right on top of the signal and changes the mode in the software. This will help you make more contacts!
+ NOTE 1:  MixW doesn't have RSID features. Request it!
+ NOTE 2: A problem exists in the current paid version of HRD's DM780: the DM780 RSID popup box to click does not work. HRD support is aware of the problem. You can still use the textual version that you can select in the settings so that it appears in the receive text areas. If you click the RSID link that comes across the text area, DM780 will tune to the reported signal, and change to the correct settings.
+ NOTE 3: some websites publish frequencies that are right on top of weak-signal FT8, JT65 and JT9 segments. Even if that is a matter of contention, follow the regulations and be kind: DO NOT QRM weak-signal QSOs! AGAIN: make sure that your signal does not cross into other sub-bands where weak-signal modes are active. For instance, do not have any part of your signal at x.074 or higher, as this is the sub-band for FT8, JT65A, and JT9.
Quick Reference: we in the active Olivia group suggest 8/250 as the starting settings when calling CQ on the USB dial frequency of 14.072 MHz with an offset of 700 Hz, on 20m–that translates to a CENTER frequency of 14.0729 MHz. On 40m, 7.072 MHz on the dial with an offset of 700 Hz (and again 8/250) which translates to a center frequency of 7.0729 MHz.
Also, do not quickly switch to other modes without calling CQ for at least a five-minute window. It is really horrid when people call CQ and change settings, modes, bandwidths, tones, every time they call CQ during the same session!
There are several key resources that we in the Olivia community are developing, to make it easier for you to enter into the great world of Olivia.  One is an active support e-mail group to which you can subscribe at https://groups.io/g/Olivia — a group containing topical areas of interest which can be filtered so that you are not flooded by email containing topics of which you are not interested.  It has a files section, as well, in which we will add helpful how-to instructions and so on.
Another resource is our Facebook group, at https://www.Facebook.com/groups/olivia.hf — also with a files area containing help files.  This group is a great resource for getting help from like-minded Olivia digital mode enthusiasts.
Some more eavesdropping on an Olivia QSO:
And, two more:
One last note: Olivia is NOT a weak-signal mode. There are no points won by barely making a contact. In the USA FCC regulations, you are directed to use only the power necessary to make the QSO.  Typically, with poor propagation, using Olivia with an output power of 100w is the minimum to establish a reliable circuit. You just cannot go beyond your rig's duty cycle (don't burn out the finals in your radio!). You also must be sure that you do not overdrive the audio chain into your radio. Be sure that you do not have RF coming back into your audio chain. Yes, 100 watts is acceptable. Don't let anyone convince you otherwise. After all, think about RTTY.
Welcome to Olivia!  See you on the waterfall.
73 de NW7US
Tomas Hood, NW7US, is a regular contributor to AmateurRadio.com and writes from Nebraska, USA. Contact him at

[email protected]

.