Yesterday I sold all of my HF radios. At this moment, I have zero radios capable of transmitting below 2 meters.
It started off because of an advertisement in QST, and then a visit to AC9S to see his Flex 6700. I became obsessed with SDR, reading everything I could and watching youtube videos of hams around the world. I had to have a panadapter...wait, I need 4 panadapters!
I settled down a bit and got busy with other hobbies for a couple of weeks. A few contacts on PSK31 and CW, and I was back to being hot and heavy on a new radio - and one with all the whiz bang features. So on Friday I emailed Flex Radio with a list of my current HF rigs. Matt got back with me Monday morning with a quote for trading them in that wasn't too far off the used market value. Well rats...time to get serious or drop this fantasy.
A little back and forth, and then a search of the online swapmeets led me to list my radios for sale online Monday night. By Tuesday morning they all were sold! Yikes! I ended up getting 25% more than the trade-in offer by selling myself, even when I took shipping and PayPal fees into account. So Tuesday afternoon while at the gym I took a break and called up Matt at Flex. I placed my order, and a new rig will be headed my way in the coming days. My old radios went out by UPS this afternoon. I'm currently a VHF/UHF only ham!
I'm hearing of hams that are giving up on HF, or even ham radio entirely due to the band conditions. Not me...I'm doubling down on this hobby by consolidating my HF capabilities into a Flex. I'll let you know how that works out!
Michael Brown, KG9DW, is a regular contributor to AmateurRadio.com and writes from Illinois, USA. Contact him at

[email protected]

.
Tied up with other radio happenings, I missed getting on EME during the moon's last two orbits of the planet. I was able to get back at it last week, with three days of unobstructed ocean moonrises as the moon travelled through its northern declination peak.
Conditions seemed unusually good and I was able to complete several contacts with my small station ... a single 9el m2 Yagi and an older 2m 140W brick amplifier. The Yagi is nestled atop my 50' tower's mast, between my triband Yagi, and Yagis for 6m and 70cm. The tower is located about 100' from the ocean and on these favorable moonrises, looks towards the moon directly over saltwater. The antenna appears to develop the full 'theoretical' 6db of seagain and performance seems fairly similar to what I would expect from a box of four similar Yagis.
Stations worked last week (all on JT65B) where:
I3MEK, WA3QPX, G4DML, EA5SR, SP8NR, PA0JMV
and
K9MRI
. The first three stations had been previously worked but answered my CQ while the remainder where all new, representing 'initials' #84 - #87 using this simple system.
WA3QPX 4 X 28 el Yagi array
EA8SR's 4 X 9el Yagi array
G4DML's 4 X 8el Yagi array
K9MRI's monster array - 8 x 28el Yagis
K9MRI provided the best signal report I had ever received on moonbounce, a -15db and indicated that my signal was audible during our QSO!
WA3QPX represented a new 2m state, which made me wonder what my confirmed state totals had reached ... 26 now, including EME and terrestrial contacts. Interestingly, my 2m DXCC total also stands at this same number ... 26 confirmed.
With such a low ERP, I often think that I will eventually run out of stations that I can work on EME, yet I continue to see many new stations every time I get on the air ... likely enough to keep me challenged for some time yet.
I often hear stations better than they are hearing me so if I do run out of stations, the next logical step would be a modest 3db increase in my power by building a simple 300W amplifier. An extra 3db would probably open up a large number of new challenging target stations to work with.
I have a box of NIB 4CX250Bs and sockets that have been looking at me longingly for some time!
Steve McDonald, VE7SL, is a regular contributor to AmateurRadio.com and writes from British Columbia, Canada. Contact him at

[email protected]

.
In the latest episode of Linux in the Ham Shack, which is in fact better than the title would suggest, we tackle a bunch of different and interesting topics. There's information on driving while hamming, openness at the FCC, Belarussian nanosats, open-source documentation, Firefox returning to Debian, Chinese Linux distributions, things Linux doesn't have that it should, CW clocks and more. Thank you for listening and please donate and share our Hamvention 2017 funding campaign. Thank you!
73 de The LHS Crew
Russ Woodman, K5TUX, co-hosts the Linux in the Ham Shack podcast which is available for download in both MP3 and OGG audio format. Contact him at

[email protected]

.
Has it been this long since I was on the radio??
My last blog post was over a month ago! What's the reason for this over due lapse........I have really not been on the radio or for that mater doing any thing radio what so ever. I have not fallen off the Ham radio wagon but have been busy with my other budding hobby... photography. My wife Julie is into photography big time has taken me under her wing. I have using my time to learn the in's and outs of our camera's (
Nikon D800
,
D810
and a
Lumix mirrorless
) along with editing software such as
Adobe Lightroom
. I'm begging to understand that "point and shoot" is the past and for me understanding the camera and the shot is my new learning curve. As you can see from the above picture ( Done with my iPhone and an instant fail in my dear wife's eyes) the roll top desk was long overdue in opening. Today it was time to get down to some radio time. I setup the MFJ 1788 loop antenna on the balcony and flipped the K3 switch. I found myself on 20m and the band was in decent shape. I came across F6HKA calling CQ and I called him and he came back to me (with a few repeats of my call) we had a nice QSO with the standard exchange. My mode of choice was CW, my report was 229 and he was 559. The code speed was about 15 WPM and I must say even with the time away from the radio I found this speed very comfortable. Before I knew it was time for Bert to move on as he had others waiting to make contact. I was thrilled to had made this contact and I soon after sent him an email of thanks. It's not news that the solar cycle is in the down swing BUT I read some very encouraging blog posts over this past month...On March 7th
John N8ZYA posted
that he had contacted Australia VK3CWB with 5 watts and using an indoor antenna!!!
John also quoted VK3CWB regarding a great attitude to have:
"Its not the QRP which is important, it's the enthusiasm, endeavor, application and belief that things can be done simply which I really admire. And of course, if you run QRP there must be a persistence and a "never say die' attitude which is also most admirable".
Mike Weir, VE3WDM, is a regular contributor to AmateurRadio.com and writes from Ontario, Canada. Contact him at

[email protected]

.
Joyce KØJJW and I were out for a little snowshoe activity near Monarch Pass in the San Isabel National Forest. Initially, we were headed to Old Monarch Pass when we noticed that the snow and weather conditions looked favorable on Monarch Ridge (also called Monarch Crest). Last winter, we tried snowshoeing Monarch Ridge twice, failing both times, once due to blizzard conditions that blew us off the summit.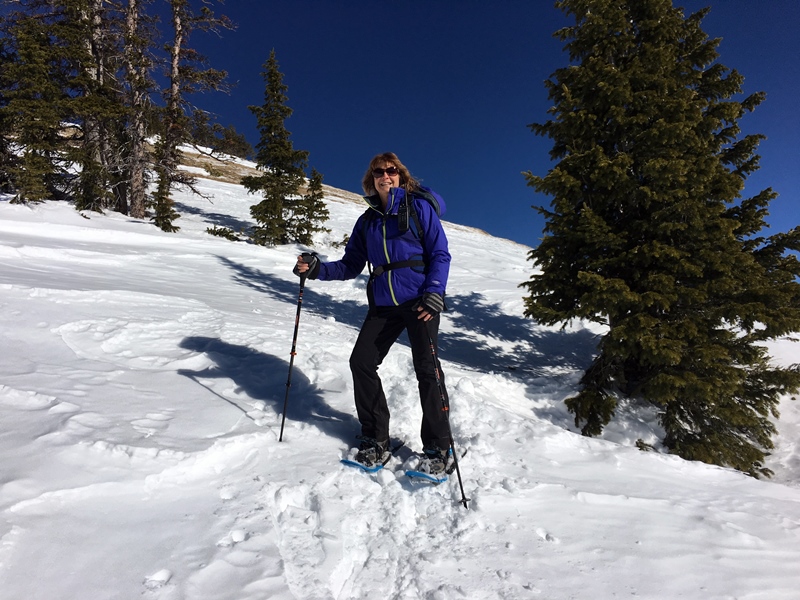 Monarch Ridge South (W0C/SP-058) is the high point and a Summits On The Air (SOTA) summit, so of course it was a great idea to showshoe up there. In August of 2016, we road to the top using the tram. Take a look at that posting for more information on the summit.
For SOTA, Monarch Crest South is a versatile and very accessible peak. The slacker method is to ride the tram up during the summer months. It also can be an easy summer hike. Monarch Pass is at 11,312 feet in elevation and Monarch Crest South rises to 11,898 so the vertical gain is about 600 feet. In winter, it is a reasonable snowshoe trip. However, watch the weather carefully: you might get blown off the summit.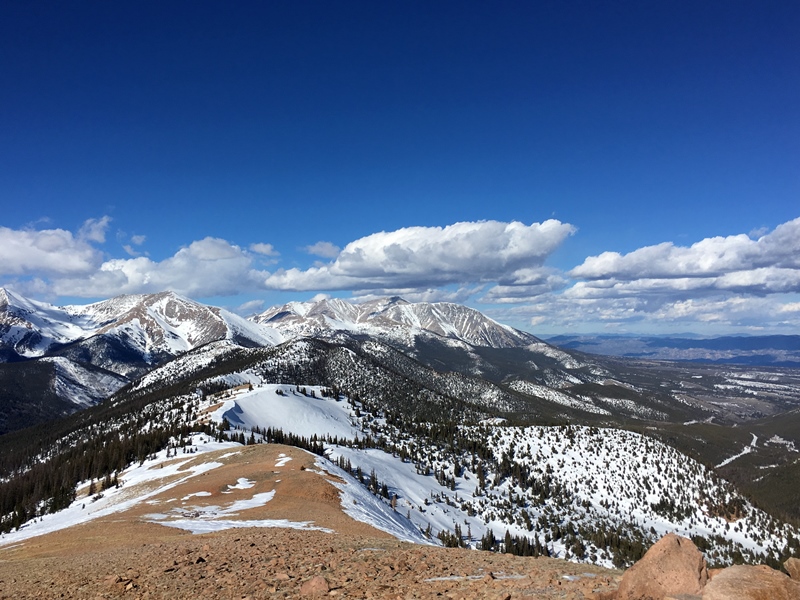 We started from the Monarch Pass parking lot and snowshoed straight up to the summit, roughly following the tram line. This route is simple but steep. Near the top, the ground was bare, so we removed the snowshoes and hiked on bare ground and rocks. I did not have cellphone coverage at the parking lot but I did get "one bar" about halfway up the mountain. I used this to post a SOTAwatch alert and send an email notice to hams in the area.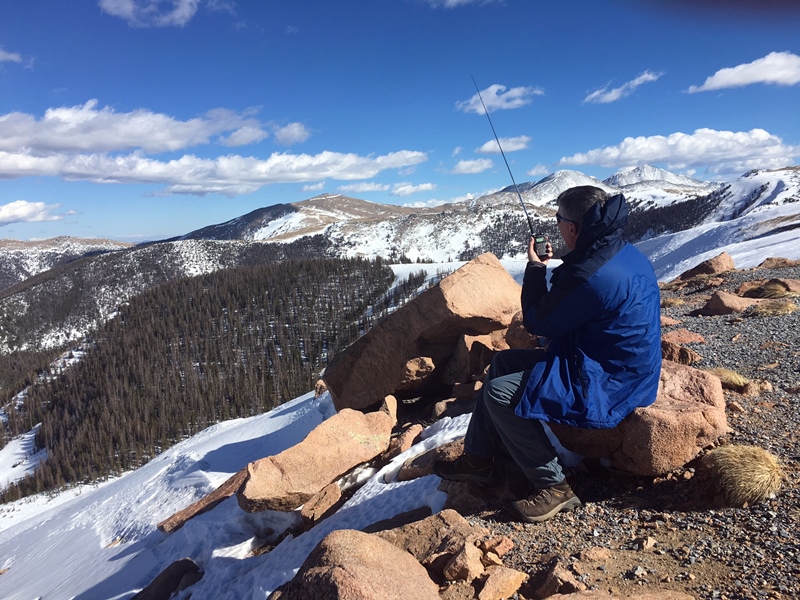 Just like last time, I did have some minor interference on 2m fm from the radio site at the summit, which seemed to peak up right around 146.52 MHz. Lovely. But it did not keep me from making contacts.
As you can see from the photos, it was a gorgeous day. The temperature hung around 35 degrees F with some wind at the summit, so no problem with that. Another great day in the mountains, playing with ham radio.
73, Bob K0NR
The post Winter SOTA on Monarch Ridge South appeared first on The KØNR Radio Site.
Bob Witte, KØNR, is a regular contributor to AmateurRadio.com and writes from Colorado, USA. Contact him at

[email protected]

.

What drove Radio Shack into bankruptcy?
After two years of unsuccessful turnaround efforts, RadioShack filed for its second bankruptcy on Wednesday, citing poor mobile sales.
The Christian Science Monitor
Runt radials
Antennas shipping with ineffective antenna decoupling are on the rise as manufacturers daringly advocate 1/12 wave radials work.
Ham Radio . Magnum Experimentum
APRS explained in simple terms
In this episode of the Ham Radio 360 Podcast, Kenneth Finnegan (W6KWF) helps explain the APRS protocol.
Ham Radio 360
How to: Boafeng UV5R USB soundcard interface
The main idea for this project was to replace the external speaker microphone functionality with that of the USB soundcard.
High on Solder
Origin of wireless security: The Marconi radio hack of 1903
Marconi is about to demonstrate his new wireless system, which he claims can securely send messages over a long distance, without interference by tuning the signal.
Hack A Day
Breaking the cheap Ham stereotype?
Both sell high-quality, somewhat expensive products, and I was a little surprised that neither had any complaints based on the general characterization of hams as cheap.
Ham Radio Now
Review: 12 watt tri-band HT
The brand new JT-5988HP is a 12-watt, tri-band radio with a 4800mAh battery from JINGTONG, a handset and parts supplier out of China.
Prepari
A review of the Elecraft K-Pod
This was a nice addition to my K3 as for me it's handy to have the VFO control right beside the key.
VE3WDM
Video
Yaesu FT-450D Mic Test Comparison: MD100a8x vs. Stock MH-31a
Test of transmitted audio from Yaesu FT-450D (as received on an FT-950) in DX conditions — a comparison between the MD100a8x, at various settings, vs. Stock MH-31a.
YouTube
Intro to Fldigi
Fldigi's user interface and basic transmit & receive operations.
K4REF
Amateur Radio Weekly is curated by Cale Mooth K4HCK. Sign up free to receive ham radio's most relevant news, projects, technology and events by e-mail each week at http://www.hamweekly.com.
The buttons in my Kenwood TS-50S ham radio started falling out when the foam inside started getting old. The foam was the only thing holding the buttons in so I used jewelry repair rings from  Michaels Store to clamp around the base of the buttons inside the bezel face plate which then holds the buttons in nicely yet lets them have full travel and good tactical feel.
Todd Harrison, KF7NBI, is a regular contributor to AmateurRadio.com and writes from Arizona, USA.