I've installed the first of what I hope are many AREDN (Amateur Radio Emergency Data Network) mesh nodes. This site is located on a large grain elevator in Heyworth, IL. It's at the 150 foot level, with two yagi antennas. One antenna is pointed north towards Bloomington, and the other is pointed northeast.
I'm still going some testing with the antenna configuration - with guidance from the AREDN group, it looks like I need point both antennas in the same direction to take advantage of how 802.11 works. I wanted to try to reach two distant locations with this node...the better way to do that is to have two nodes with directional antennas - at least that's what I'm going to try next.
The node is made up of a Ubiquiti Rocket M900 node, two RP-SMA to N jumpers, and two yagi antennas. The node is fed with a CAT5E cable that provides Power over Ethernet (POE) up to the node, and data in both directions. This arrangement results in very little loss - there's nearly no coax.
This site also houses a UHF analog repeater and the KD9AKF D-STAR repeater. Using vlan capable switch, I am able to create a connection to the internet from this mesh node. It isn't meant to be a replacement for personal use internet - but having the ability to route to and from the internet means I can access services from either side of the mesh as allowed by amateur Part 97 rules.
What's next? I'm working on two more nodes - one is a portable setup that I'm still experimenting with. I'm going to try a 12 mile link to the top of a parking garage sometime. What's interesting to me is playing in the 900MHz ham allocation. So far, 900MHz for this application behaves much more like microwaves than UHF - it does penetrate some structures and obstructions.
Michael Brown, KG9DW, is a regular contributor to AmateurRadio.com and writes from Illinois, USA. Contact him at

[email protected]

.
Ever since receiving my first QSL in the mail, as an 11 year-old SWL in Cycle 19, I've always loved getting new cards. Strange as it sounds, I can still recall the fresh ink smell and the brown manila envelope that arrived from "Switzerland Calling". In those days the world was a much larger place and Switzerland may as well have been on the moon. It was a world away ... and the envelope was addressed just to me!
I had a similar thrill this week, when my rural mailbox revealed a much-needed card from Afghanistan. It was from Shuravi, T6T, worked a few weeks ago on 20m ... surprising, as he was using just a low wire dipole supported with bamboo poles.
The card confirmed DXCC country #335 for me with most of them, like T6T, being on CW.
I keep a separate country count, and albums, for my two favorite bands ...160m and 6m, where it seems that new ones come either very slowly or in bunches.
As of today, my 160m total stands at 154 worked and confirmed while my total on the magic band stands at 86 worked and 85 confirmed ... proof of the Pacific Northwest's 6m black hole phenomenon. Sadly I neglected to quickly post a card to 4U1UN for a Saturday morning F2 QSO during Cycle 21. Later attempts proved futile as the logs were subsequently destroyed in a small fire.
The nine remaining DXCC countries will be tough, as, from what I can determine, there is little or no regular amateur radio activity from most of them:
H40 Temotu Province
FT/TO Glorioso Island
HK0 Malpelo Island
KP5 Descecheo Island
P5 DPR of Korea
SV/A Mt. Athos
VP8 South Sandwich Islands
Z8 Southern Sudan
ZL9 Auckland / Campbell Island
I've stayed away from e-QSLing as the look and the feel of a written paper card, was one of the first things that attracted me to the hobby and it seems, to me anyway, an important ham radio tradition to keep alive as long as possible. After all these years, I'm still hooked on QSLs.
Steve McDonald, VE7SL, is a regular contributor to AmateurRadio.com and writes from British Columbia, Canada. Contact him at

[email protected]

.
You may recall in my post about the Rookie Roundup that I had mentioned I used my EARCHI antenna, anchored to my 31' Jackite pole as a support. I had intended to shoot a support line over a convenient tree and was going to haul it up that way.
I started pressurizing my Joplin ARC pneumatic antenna launcher, but I couldn't build up any pressure. At first, I thought that perhaps my super cheapie WalMart bicycle pump had failed me. But listening carefully while stepping on the foot pump revealed a "whooshing" sound - so air was coming out. Next, I thought that perhaps the Schrader valve on the launcher was busted. However, I manually manipulated the pin in the tip with a screwdriver tip and it came back after being depressed - so that was OK.
It was about then that Marv K2VHW said to me, "Larry, is that a big crack on the side?"
A HUGE crack on the side of the air pressure chamber, on the side opposite the valve - practically going down the entire side.
DUH!
That's when I remembered that last October, when I made my last outdoor QRP venture for the season to Washington Rock State Park, the launcher had slipped out of my hand as I was opening my Jeep door for the return trip home. It had hit the concrete parking lot surface pretty hard, but I didn't think twice about it at the time. I didn't even give it a second look at the time. PVC is strong stuff after all, right?
I didn't notice the humongous Godzilla sized crack until Marv had pointed it out.
Call me Captain Oblivious.
I was going to try epoxying the crack. But air is like electrons - no such thing as a dumb electron - no such thing as a dumb air molecule. If either can find the shortest path, they will. I figured that once the pressure chamber was compromised, it was compromised for good. Continually pumping air into it would probably only make the crack grow bigger, even after a patch job. So last Sunday night, I ordered another. This is not something I would have normally done - my Ham Radio budget is EXTREMELY tight this year. But that launcher has become necessary equipment. I'm not as talented a water bottle tosser as Jim W1PID, my arm is nothing that would scare Tom Seaver (even on my best day) and my sling shot skills are so-so to say the least. And don't even put me anywhere near archery equipment. Between the various outdoor QRP events and Field Day, that launcher has become a must have. So even though $50 is a big deal for me, the decision to order a replacement was a no-brainer.
I was thinking that there's no way it would arrive in time, but it showed up through the USPS on Wednesday. Talk about fast service - thanks Joplin ARC ! And how do you like that - the USPS delivered it to the right house! A lot of you are thinking that's no big deal, but there's a Clinton Place, a Clinton Terrace and a Clinton Avenue in South Plainfield. Sometimes my mail goes to other places, it can be a toss of the dice.
I built it Wednesday evening, after coming home from work and after typing up and sending out the local radio club's minutes for last month. The launcher is so easy to build that I could do it in my sleep - and in fact, I was so tired Wednesday night that it almost did get built while I was asleep.
I set it aside for a 24 hour cure, and pumped it up last night for a leak test. No bubbles in the water - yay! After pumping it up with 5 lbs of pressure, I did another check at 10 lbs of air pressure. Still no bubbles - double yay! Then a final test at 20 lbs of air pressure, as I rarely have to go above that to successfully launch an antenna. Good again - triple yay!
So I have a launcher for tomorrow - QRPTTF, and for the rest of forever. I am really going to be sure I never play dropsy with it again. The spud gun has become too valuable a tool for me to be without.
72 de Larry W2LJ
QRP - When you care to send the very least!
Larry Makoski, W2LJ, is a regular contributor to AmateurRadio.com and writes from New Jersey, USA. Contact him at

[email protected]

.
I am often disappointed by the crummy microphone hanger clips supplied with mobile ham transceivers. Typically, they are cheap metal clips with sharp edges waiting to impale your hand, that look like this: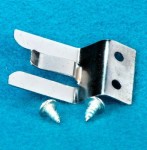 I recently came across these microphone clips that are awesome! Available from Amazon for $7.49.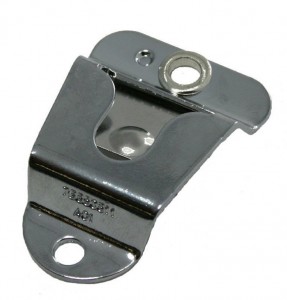 73, Bob K0NR
The post World's Best Microphone Hanger appeared first on The KØNR Radio Site.
Bob Witte, KØNR, is a regular contributor to AmateurRadio.com and writes from Colorado, USA. Contact him at

[email protected]

.
Amateur Radio has taken a back seat over the last few weeks with various family problems.
However yesterday, I had a bit of spare time and I was all revved up for testing a Baofeng with its battery eliminator. This is the part that takes the place of the HT battery pack and slides on the back of the radio instead of, providing regulated power from the car battery cigar lighter socket, in essence you make yourself a cheap and cheerful mobile rig.
I needed to just test it all out that it worked before fitting, and the
MP-304
power supply which I had recently bought was still sitting on the dining room table in its box, handy for a few Volts so I thought?
Switching on the MP-304, there was no deflection of the meter, (meter switch was in the correct Volts position)? Got the DMM out, and measured the output, plenty of Volts, but still no indication on Power supply analogue meter?
Should I return it? No chance with all the hassle of someone having to wait in for the courier to collect, it had got to be worth a look. Anyway I used to test power supplies by the hundreds, when I worked in the industry, so I did have a good chance maybe?
Quick investigation required! Took off the top of the case and I was inside, no going back now. Measured at the rear of the meter terminals with the DMM no volts, nothing on the rear of meter switch that changes between Amps or Volts either. This then leads us back to the plug that plugs into CN2 on the control PCB. Just as I was about to measure at this point, I could see the Blue wire (I have marked it with a small red arrow above) was raised, with its termination tag in the plug sticking out, I unplugged the whole skt from CN2, and the Blue terminal had not been pushed home in the plug in the factory, a smart push and it clicked in place. Plugged it back into the PCB socket and switched on, and the meter then sprung into life!
It does make me wonder if the Chinese really test this stuff in the factory? Time and time again I have come across problems with Chinese equipment like this, which should really be sorted in the factory before shipping, I don't believe QA exists? The problem here is, the dealer gets a bad name, and it really isn't his fault, he buys in a pallet load, one or two get put out for demonstration, and the rest are stored ready to be shipped out in the original sealed boxes they come in.
After fixing this, it did however give me the chance to have a good look inside what it was made of :
Build quality really wasn't too bad, a nice hefty transformer feeding a quality bridge rectifier, control board (which I have already mentioned), that sets up the limits and then drives the outputs, on a good quality heatink blown at by a fan, which is triggered by a stat when the temp gets to a certain level.

Cased back up, I was then back to the point where I had started at a couple of hours earlier, testing the Baofeng:
Steve, G1KQH, is a regular contributor to AmateurRadio.com and writes from England. Contact him at

[email protected]

.