Jeff Davis, KE9V, wrote in his weekly letter, Quintessence, about something we've all heard on the air, the roundtable discussing and lamenting about those who are not real hams.  He posits this is one unintended consequence of incentive licensing, where new amateurs tend to stay on repeaters and not upgrade to acquire HF band privileges, creating this us and them mentality.  Newbies will always be on repeaters and the real hams are on HF.
Incentive licensing was introduced in 1964 by the ARRL and FCC.  I got my ticket as a teenager in 1984, but I don't recall hearing the term incentive licensing or angst about it until perhaps ten years ago.  It never really occurred to me that there was something before incentive licensing in amateur radio.  It was always what I knew amateur radio to be, even when I was a budding radio artisan in the 70s.  License classes were an integral part of amateur radio, much like color television is in every living room today.
The original motivation behind incentive licensing was to get amateurs to increase their knowledge and skill.  While in theory it makes sense, in practice I don't think it's been very effective.  Today you can find Extras who are, well, quite simply, numbskulls.  While the exams can test for specific isolated technical tidbits, they never were able to test for operating skills, uncover deep understanding of topics, or examine practical skills like soldering a connnector.  Some would argue the CW exam tested for operating skill, but in reality it didn't.  It tested operators copying CW for a certain period of time but didn't really test whether they could copy weak signals, send code, or have a QSO.  It certainly didn't test whether they were proficient operators or good and wholesome people.  A review of FCC enforcement actions and on air monitoring in which violators and LIDs most often are code tested Extras provides empirical evidence that exams and incentive licensing aren't always effective at determining good operators or weeding out those guys.
Over the years I've found that license class has little to do with the technical proficiency of amateurs.  The biggest factor I've found has been professional experience and formal education.  The most technically astute amateurs are, ironically, professionals in telecommunications, electronics, and engineering.  Often these folks have access to equipment and resources that let them expand their knowledge, and amateur radio is a secondary technical endeavor.  The best of these folks seed the rest of the amateur radio community with technical know how.
Personally I've found passing amateur radio exams to be trivial.  While I'm a telecommunications professional with some schooling in electronics, I've thought tests were fairly easy to pass with just simple question memorization and very little, if any, technical study.  I'm not saying I didn't know the material.  I could draw a bipolar transistor amplifier circuit from memory and do the calculations on a whiteboard or explain modulation.  Passing a test was merely an inconvenient formality.  Advancing my knowledge and skills in amateur radio has never been driven by a test or advancing in license class, like the original intent of incentive licensing.  It certainly wasn't driven by getting an extra 20 kHz of space on 20 meters at the time.  Increasing knowledge has been triggered by my interests.  I really got into CW when I saw others using it and saw how quickly and efficiently QSOs could be had, not because I had to pass a 20 WPM test.  I took up rig building when I saw others making simple rigs from 2N2222s and it seemed cool.  I'm exploring satellites now because I find relaying a radio signal through a little box orbiting the Earth intriguing.
If incentive licensing isn't really motivating amateurs to learn more and increase their skills, what purpose does it serve, other than supporting a needless hierarchy, one implemented back when post-war middle-agers and old codgers were bucking free love and turn on, tune in, drop out?  I think incentive licensing in the US has outlived its usefulness, and it's perhaps time to eliminate it — one test and license class to rule them all.  What is the worst that could happen, someone new won't be destined for that local repeater and its accompanying unfair stereotypes, and will instead make a QSO on HF, perhaps get interested in CW, build a rig, and then work through satellites or do moonbounce…and become… the proverbial real ham?  
Anthony, K3NG, is a regular contributor to AmateurRadio.com.
Saturday saw me opening a beer celebrating finishing off the new decking area…which means….Sunday saw me finishing off my portable hexbeam from Folding Antennas. The build took quite a while, about 8 for the hardware and about 3 for the layout and tuning. I've not used it much in anger as the rains started coming.
An early doors write up is here…..but so far its looking worth the build time. Here's a shot of the half finished decking…oh and a half finished antenna.
Alex Hill, G7KSE, is a regular contributor to AmateurRadio.com and writes from Cumbria, UK. Contact him at

[email protected]

.
To say it is a beautiful day in New Jersey today is in understatement. The sun is shining, and the temperatures are in the upper 60s (20C). The breeze (if there is any) is so gentle that you don't even notice it. So I decided that after grocery shopping, but before other chores, that I would sneak off to the park and try out the EARCHI antenna. I built the 9:1 UNUN late last Autumn and didn't get a chance to try it out.
The antenna line launcher worked perfectly, once again. First shot, I cleared a 50 foot tree with ease. The end fed EARCHI was up in record time. I used a 33 foot piece of wire attached to the UNUN, and ran a 20 foot piece of coax from the UNUN to the KX3. My results with tuning it via the KX3's autotuner were so-so. The KX3 loved the antenna on 30, 20, 18 and 12 Meters. On 40, 15 and 10 Meters, I got a decent match, but the KX3's tuner clacked around noticeably longer finding a match on these bands. I think I am going to have to experiment with different radiator lengths to see what ends up working best as an "all around" antenna length.
But even with decent matches, the bands seemed dead! I did end up working W1AW/KP4 on 20 Meters, but other than them, I did not hear much. I hear much more activity during the workweek from the Jeep than I heard today. Naturally, the first thing the Ham suspects is that it's the antenna - especially when it's a new one. Actually, my first reaction was that I screwed up something when I built the UNUN. I came home after only a short time out, a bit dejected.
Then when I got home, I got on the computer to order some wire and rope from The Wireman. For the heck of it, I also decided to check out Facebook. A lot of my Ham friends had posted about how lousy the band conditions are today. In fact, one commented that he went outside to make sure his antennas were still in the air!
So it ends up that today was not the day to base a critical performance review on, I will have to wait for another weekend with decent weather and better band conditions for another test. In the meantime, I will also browse the Internet to see if I can garner more information on optimal radiator lengths for use with a 9:1 UNUN.
72 de Larry W2LJ
QRP - When you care to send the very least!
Larry Makoski, W2LJ, is a regular contributor to AmateurRadio.com and writes from New Jersey, USA. Contact him at

[email protected]

.
AmateurLogic.TV will be streaming live tonight at 7:00 PM CDT. Special guest Randy Hall, K7AGE. Plus Tommy and George's revenge for the Vegemite incident and more.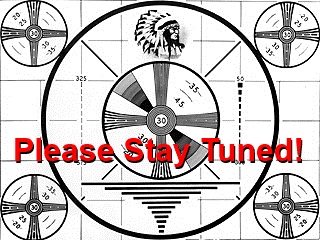 The live stream has completed now. Thanks to all who joined us. Look for it to be posted in the next day or so.
George Thomas, W5JDX, is co-host of AmateurLogic.TV, an original amateur radio video program hosted by George Thomas (W5JDX), Tommy Martin (N5ZNO), Peter Berrett (VK3PB), and Emile Diodene (KE5QKR). Contact him at

[email protected]

.
As I went into the shack this morning, GPREDICT told me that VO-52 was close by, with a nice overhead pass. I decided to see if I could hear myself on CW. Sure enough I found myself and tried a few CQs, although without any replies. I got the hang of tuning my transmit signal to keep the downlink the same place.

A little later FO-29 was due over and I wondered if I might be able to hear anything. The pass was quite quiet, but I did hear my Twitter friend, Berend, PA3ARK on CW. I was able to find my signal and place it reasonably close to Berend's and we had a bit of a sketchy, but valid QSO.

Really pleasing to find that some simple CW satellite operation is viable with just a vertical antenna.

Berend sent a nice photo of the entry of the QSO in his logbook!
Evening update:
I caught a late afternoon pass of VO-52 and was hearing myself well enough to have a tune around and was able to answer UT3UX who was calling CQ on CW and work him. I've not found too much CW activity so far. I'm sure I can work some SSB, but with the slightly lower signal levels, CW gives a bit more latitude!
Tim Kirby, G4VXE, is a regular contributor to AmateurRadio.com and writes from Oxfordshire, England. Contact him at

[email protected]

.
I had the opportunity this afternoon to be one of the very first people to go hands-on with the new dual-band Wouxun KG-UV8D HT courtesy of Danny at BuyTwoWayRadios.com. What's the verdict? I'm impressed!
VHF/VHF dual receive — for the win! This is a great feature and, at least for me, one of the most compelling reasons to upgrade to this radio. It mixes the audio from the two frequencies so you won't miss anything. Great feature for EmComm, especially. I personally don't have a great need for cross-band repeat, but that's just icing on the cake.
Speaker/mic jacks are well protected
PTT and various function buttons are easy to tell apart by feel
Standard Wouxun keyboard layout
The text on the color screen is so much easier to read than on previous Wouxuns. There's about twice the screen real estate and it makes the radio much more usable. Although I didn't get a chance to play with every feature of the KG-UV8D, I can honestly say that this radio seems to be much easier to program from the keypad. I think that larger screen helps a lot. For the first time, I feel that I could field program one of these without the manual. Trust me, that's saying something!
The radio seems slightly narrower and thinner than previous versions. This is a definite step up and it improves the ergonomics of the radio. The PTT button is large and segmented in a way that makes it hard to mistake it for a function button as with the KG-UV3D. The programmable buttons under the PTT are also cool. You can program it to activate the FM radio or to start scanning, for example. Very easy to customize.
I like the recessed battery eject button
Slim profile battery
Chassis backplate
The battery is different which is a little disappointing for those of us who have a collection of older Wouxun batteries, but I like the changes they've made to the way it slides on and off the chassis.
The rubber ducky antenna they include is OK, but for me a Smiley 270A would replace it in short order. And speaking of antennas, why can't Wouxun figure out if they want to use SMA-male or SMA-female on these radios? I think we can all agree that they should just standardize on one or the other. This radio has a SMA-female connector while my KG-UV3D is SMA-male.
I've fallen in love with this little radio and I've only had it a few hours. When they begin shipping in a couple weeks, I will definitely be ordering one. While there aren't really any must-have new features (except dual-receive), the radio just feels much more refined than other radios I've used that are anywhere near this price point.
Whether you're a brand new ham looking for your first rig or you've been at this game for decades, you can't go wrong with this $139 radio.
Matt, W1MST, is the editor of AmateurRadio.com.
Mark your calendars, the ARRL Centennial QSO Party will make a stop in the Centennial State of Colorado in May. The dates are 21-27 May and yours truly has signed up to represent Colorado in this incredible event.
I'm sure by now you've already heard about the ARRL Centennial QSO Party and hopefully you've already been busy making contacts. I'm slightly behind schedule, but thankfully each of the 50 states will be on the air twice during the calendar year. My goal is to work them all.
When I first learned of the opportunity to represent Colorado in this event I knew I wanted to sign up for a operating slot or two. While my station is a small pistol in the world of high power contest stations, I'm still excited to put the Centennial State of Colorado on the air from my home QTH during the ARRL Centennial QSO Party.
Currently my on-air timeslots are 22 May (00:00 – 03:00 z) 20m Phone and 25 May (15:00 – 18:00 z) 20m Phone. You can learn more about this year long event by visiting the ARRL Centennial QSO Party website.
I may sign up for additional timeslots if the need requires. As we get closer to the event date, I'll be sure to post a reminder. You can also follow me on Twitter and Facebook where I'll post real time information on where you can find me on the bands.
Until next time…
73 de KDØBIK
Jerry Taylor, KD0BIK, is a regular contributor to AmateurRadio.com and writes from Colorado, USA. He is the host of the Practical Amateur Radio Podcast. Contact him at

[email protected]

.
Before the decking project was formally sanctioned and actioned through the domestic funding board / xyl I had thought about ordering a little kit to build over the summer. I had built the v2 QRSS kit from Hans Summers, G0UPL and have used it on the 30m band and frankly enjoyed both the built and the fun tinkering with it.
The v3 kit changes the design slightly in as much as it used a more common 16×2 LCD and the PCB size as increased slightly. But from what I can tell there is a deal of difference between the two designs. Both encourage the builder to tinker with the PA's, increase functionality with GPS and use the add on LPF relay to build a multi band TX. The one big and obvious change is the used of the dedicated DDS.
Plans for this kit are to still do the build and then buy up 10 kits and build them at the BEC fab lab one Saturday. I will no doubt get a suitable date for the build day at next weeks club meeting. Until then its finish the decking or be in trouble with the domestic CEO.
Alex Hill, G7KSE, is a regular contributor to AmateurRadio.com and writes from Cumbria, UK. Contact him at

[email protected]

.
Unfortunately, to many, ham radio and fitness are mutually exclusive. We are all passionate about a hobby whose major milestones can be accomplished setting in a comfortable chair in front of our radios. Our major competitions include 24 - 48 hours of sitting. We've even developed software that eliminates the need to even operate a CW paddle or press the button on a microphone. Needless to say our hobby or at least many facets of it promote physical inactivity. You will never mistake a Hamfest for a Triathalete convention.
There are notable exceptions, within the hobby, that will get you out. Expeditioning, fox hunting (outside), Summits on the Air and I'm sure there are a few others. In fact, and I may be a little biased, I think that the SOTA Goat award is one of the toughest awards in amateur radio. The SOTA Goat is an activator award, you must earn 1,000 activator points with the highest value summit worth 10 points. There are some bonus points available during extreme weather conditions, but suffice it to say you will have to summit at least 100 peaks and operate to earn the award. Normally it takes several years to earn this award and you have to do it on your feet.
However, if you aren't into Summits or other outdoor forms of radio there is device that you can wear on your wrist to motivate you to get up and around. These devices count your steps in a day and depending on the device will nudge you to get up when you have been sitting too long. All of these devices have accompanying apps that will sync with the device to give you statistics on your day including steps and the quality of your sleep. I currently use a device made by Jawbone and although I have a somewhat regular exercise regimen, it reminds and motivates me to keep it up. An extra walk around the block or around the office, if done regularly can make a difference in your overall fitness.
I blogged here several months back about the backpacker mentality of saving ounces in our packs while we were carrying extra pounds on our bodies. Since that blog I have lost ten pounds and signficantly improved my stamina. The higher fitness level we can achieve improves our odds to live long enough to achieve some of our sedentary goals.
Mike Crownover, AD5A, is a regular contributor to AmateurRadio.com and writes from Texas, USA. Contact him at

[email protected]

.
After a rainy start, it turned out to be a gorgeous Spring day. It was sunny and it was nice and warm, despite a stiff breeze. I was able to get to the car at lunchtime and worked two Swedish stations, SM5IMO and SM4NGT on 15 meters and IK2CIO on 12 Meters. The nice thing about operating at lunchtime here, is that at that time, most of Europe is done with the work day and there are lots of stations on the air. They get to relax and enjoy their evening, and I get some good DX.
Thanks to a comment from Kelly WB0WQS, I am taking another close look at LOG4OM. I tried this a couple years ago and was having severe problems getting it to run properly on my computer. They must have made a bunch of improvements, or maybe it's that the laptop I am using now is a better platform than what I had before. Whatever the reason, I downloaded it again tonight and installed it. It's working very well and for now? Let's say I am intrigued. It has most of the bells and whistles that are part of better logging programs these days. It is powerful with CAT, Cluster management and all the other "necessary" stuff. It's free and it's easy on the eyes.
Here's an announcement that I saw in an e-mail today. This looks way cool and is going to get me to try and get back in the swing with my bug (pun intended!):
W6SFM On-Air BUG ROUNDUP - Saturday May 17th 2014Objective:
This 12-hour event is not a contest; rather it is a time dedicated to celebrating our CW and Bug key heritage. Participants are encouraged to get on the air and simply make enjoyable, conversational CW QSOs using a Bug style key as the sending instrument. There are no points scored in this event, and all who participate are winners.
Once the event has concluded, logs can be submitted to the W6SFM by way of the link provided on the clubs Bug Roundup web page. Nominal prizes/certificates will be awarded to: the person who had the most QSOs during the 12 hour period; and the person who worked the most interesting amount of bug types.
Bands
(Suggested Freq.)
10 meters
- 28.040 - 28.050 MHz
15 meters
- 21.040 - 21.050 MHz
20 meters
- 14.040 - 14.050 MHz
40 meters
- 7.040 - 7.050 MHz
80 meters
- 3.540 - 3.550 MHz
Dates
W6SFM Bug Roundup is held twice annually.
- Every 3rd Saturday in May from 1700 UTC though Sunday 0500 UTC
- Every 3rd Saturday in November from 1800 UTC through Sunday 0600 UTC
Thank you for your participation and we hope you enjoy the event. 73
For more information on this exciting event please visit the W6SFM Bug Roundup website page by clicking
HERE (
http://www.w6sfm.com/Bug_Roundup.html
)
72 de Larry W2LJ
QRP - When you care to send the very least!
Larry Makoski, W2LJ, is a regular contributor to AmateurRadio.com and writes from New Jersey, USA. Contact him at

[email protected]

.