Raspberry Pi Zero: $5 computer
Of all the things we do at Raspberry Pi, driving down the cost of computer hardware remains one of the most important.
Raspberry Pi
3916 Santa Net 2015
Every year on 3916, we give good little boys and girls a chance to talk to Santa Claus at the North Pole!
The 3916 Nets
Kids are not the future of Ham Radio
You've heard it a million times: our kids are the future. But I am starting to think it is incorrect.
K0NR
rtl_433: 433.92MHz generic data receiver
rtl_433 turns your Realtek RTL2832 based DVB dongle into a 433.92MHz generic data receiver.
GitHub
5 things good Elmers do
Sending a newcomer a QSL card is a good way to encourage them to get on CW again, and I included the message, "I hope to hear you on again sometime."
KB6NU
RTTY contest soapbox
I honestly thought I was going to be making blazing fast contacts since it's a "Digital" mode. Nope… RTTY contacts are much longer than CW or SSB.
NT1K
DIY kit for aircraft band monitoring
There is an interesting kit being sold on eBay designed specifically for aircraft monitoring of 118-136 MHz.
The SWLing Post
SatSat iOS satellite tracker
Satellite tracking software displays current and next passes for any satellite. It also provides beacon frequencies to listen to.
SatSat
APRS Paths explained
"Why is WIDE1-1,WIDE2-1 better than WIDE2-2?" The answer has to do with the use of neighborhood "fill-in" digis.
wsanders.net
HF Automatic Link Establishment (ALE)
Automatic Link Establishment, or ALE for short, has become a worldwide standard for initiating HF communications between two or more points.
VA3QR
Samuel Morse's other masterpiece
The famous inventor's painting of Gallery of the Louvre is as much a fascinating work of art as a 19th century history lesson.
Smithsonian.com
Video
The changing face of hobby electronics
The internet offers cheap components from global suppliers to anywhere in Australia but may also herald the downfall of local brick and mortar stores.
State of Electronics
Amateur Radio Weekly is curated by Cale Mooth K4HCK. Sign up free to receive ham radio's most relevant news, projects, technology and events by e-mail each week at http://www.hamweekly.com.
Vibroplex Bug Morse Keys
Since starting to work CW on-air a few months back I became familiar with the sound of other operators using Vibroplex Bug telegraph keys. I have been curious to try one of these semi-automatic keys even though I know that they are not recommended for new operators.
Vibroplex Original Semi-automatic Bug
The Bug uses a sprung pendulum to automatically send DITS. The action of moving the lever to the right starts the pendulum in motion and it creates evenly timed DITS automatically. DAHS are created by manual timing moving the key to the left. Using the key requires quite a bit more practice that using a straight key or paddles.
The Vibroplex semi-automatic Bug is considered a manual key by the SKCC (Straight Key Century Club) so it counts in SKCC contacts.
Used Bugs in decent working condition can often be had for under $70. This one was advertised as being "un-used new in box". Indeed, when I received it, it still had the shipping bumpers on the main spring and still had shipping grease. The glue on the nameplate had deteriorated and come loose and there was significant oxidation on the parts. This bug is a few decades old and may older than I am. Bugs haven't changed much in design since 1907. The history of their creator,
Horace Martin
is interesting. He created the bug to help deal with his own degraded sending ability due to long hours operating a straight key as a renowned telegrapher.
Horace was a professional telegrapher so he designed the bug for professionals who sent at speeds well above what is normally used in amateur radio. The slowest speed this bug can send DITS without modification is about 25wpm and goes well above 40wpm.
As a beginning CW operator you will generally be well below that speed in your copy skills and likely your sending speed as well. But when experienced hams work you with a bug they will slow their DAHS down to your speed, however without special added weights there's not much they can do to slow down their DITS to your speed. This gives their FIST a unique sound. The DAHS are sent slowly but the DITS are zinging by. When you first hear this style your brain will not know how to interpret what you hear but give it some time and you will learn to copy them.
You can slow the Bug down by adding weight to the end of the pendulum. An inexpensive method is to wrap the weight with some solder. I've wrapped mine to bring it down to about 22wpm.
Wrap the pendulum weight with solder to slow it a bit
Here is a little video letting you hear a bit of the cadence of the bug. Now I just received this thing today and I practiced with it for about 30 minutes before making this video so I'm no bug operator for sure but it will give you some idea of the bug "swing"...
The Vibroplex Bug next to a Kent Hand Key.
Manual Morse Code Keys
So don't "bug out" when you hear one of these on the air.
That's all for now
So lower your power and raise your expectations
73/72
Richard - N4PBQ
Richard Carpenter, N4PBQ, is a regular contributor to AmateurRadio.com and writes from North Carolina, USA. Contact him at

[email protected]

.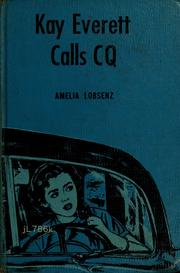 All aboard for ADVENTURE! I purchased this book a while back and I finally dug it off the shelf. Kay Everett Calls CQ, by Amelia Lobsenz, is about a young college girl who takes a summer road trip from North Carolina out to the West with three friends, a travel trailer, and ham radio. For me, this book has several things going for it: (1) strong female protagonist (I have two daughters), (2) HF mobile (I need to get my rig installed in my new vehicle), and (3) a travel trailer trip to Yellowstone National Park, Idaho, and the Colorado Rocky Mountains. The plot centers around a jewel thief, who is also roaming the West, and Kay learning about the amateur radio hobby. Ham radio plays a critical role in several places and the author has the main characters explore several aspects of the hobby (… they even go to a hamfest).
The author, Amelia Lobsenz, was an experienced ham, licensed in 1941. After a stent in publishing, she ran her own public relations firm. She based some of the characters on her actual friends, to include Theresa Korn, K7JGU. In the story, Terry, a YL and pilot, takes two of the girls flying over Idaho (aeronautical mobile, where they end up directing smokejumpers into a wildfire). The protagonist, Kay, is named after Ms. Lobsenz's own daughter.
Ms. Lobsenz used a 1940's trip out West to serve as inspiration for Kay's trip. Among the many places the girls go include:
– National Elk Refuge National Wildlife Refuge
– Grand Teton National Park
– Yellowstone National Park
– Craters of the Moon National Monument
– The Great Salt Lake in Utah
– Rocky Mountain National Park
Amelia became a Silent Key in 1992, but I think her written work will live on.
Scott Hedberg, NIØL, is a regular contributor to AmateurRadio.com and writes from Kansas, USA. Contact him at

[email protected]

.
Ahhh the old setup along with a great antenna............
The blog keyboard has been quiet these past few weeks but I am coming along with my digi adventure! I did have some long evenings with trying to get the PC software and rig to talk and get along with each other. I really find the Yahoo groups to be a great help when Im ready to throw in the towel. There seems to be a group for most ham radio applications and very willing and knowledgeable folks out there more than happy to help. This weekend is the CQ CW contest and I have been spending some of my downtime getting things ready. The software I be using is
N1MM+
I have not as of yet used this version in a contest I had been sticking with just plan old N1MM. As for rig software I migrated to
Win4K3
and am very happy with it more on that in another post. Finally my logging software has changed as well I have just started to use
Log40M
again more on that in another post. I never planned it this way but it seems that all is new for the contest and that can be both exciting and a disaster!! I have spent time testing out N1MM+, Win4K3 and Log40M and all seems to be going just fine.....but then again there is Murphy. Some of my goals for the contest are:
1. Stay with the contest and not to get frustrated.
2. Try not to use the morse code reader and do most by ear....see how that works out.
3. Have fun and not worry about the score as with my setup placing anywhere for anything is most likely out of the question.
I will keep you posted as to how things go in the contest.....oh and the new setup as well....maybe I will hang some garlic close to the shack to keep Murphy away....:)
Mike Weir, VE3WDM, is a regular contributor to AmateurRadio.com and writes from Ontario, Canada. Contact him at

[email protected]

.

Happy Thanksgiving to those of you in the U.S.A.
It seems that the 630m WSPR digital crowd is growing quickly, with more new stations showing up every evening on the web's
WSPRnet activity page
. Most nights see activity from 80 or more stations, either transmitting or listening in WSPR mode on 630m!
WSPR
is the 'Weak Signal Propagation Reporter' beacon-only mode being used by many of the stations presently transmitting on 630m, especially the U.S. experimental stations.
Those with the
WSPR software
(freeware and easily installed) usually have the program automatically upload their spots (stations being heard) to the WSPRnet page so that the transmitting stations are able to see where their signals are being heard. It also becomes quickly apparent, when examining the various spots, just how good or bad propagation might be at any given time.
WSPR Waterfall Displaying Detected Signals
Since WSPR is a non-QSO mode, the ability to observe propagation conditions, is its major feature. With transmission periods of just under two-minutes, and a very narrow FSK data information stream, WSPR can dig into the noise and copy signals that are often inaudible by ear ... some 15dB or more, past the audible level. Of course, audible signals are also demodulated as well, and will appear on your list of spotted stations, on the WSPRnet data page.
If you choose, you can also see your spotted stations in a Map mode, as shown at the top. This map shows the stations that I was hearing last night on 630m.
Along with the call and grid locator of the station being heard, the WSPR software also indicates several other bits of information, including the signal-to-noise ratio as heard at your location. Shown below is the decoded output from several stations following the two-minute transmission period.
| | | | | | | | | | | |
| --- | --- | --- | --- | --- | --- | --- | --- | --- | --- | --- |
| 06:58 | WH2XXP | 0.475662 | -13 | 0 | DM33 | 5 | VE7SL | CN88iu | 1909 | |
| 06:58 | WG2XXM | 0.475709 | -6 | 0 | EM15lj | 5 | VE7SL | CN88iu | 2610 | |
| 06:58 | WG2XKA | 0.475723 | -9 | 0 | FN33lq | 1 | VE7SL | CN88iu | 3833 | |
Note the SNR reports ... usually, signals stronger than around -14dB will be just detectable by ear with anything in the + range being pretty strong.
Shown below are the Tuesday night reports of local station, VE7CNF, and indicates the extensive area over which his WSPR beacon was reported. Toby is running a modest 5W eirp station from a suburban-sized lot. Analyzing the reports, it is apparent that many of these stations rose to audible signal levels at various times throughout the evening and would have probably been workable on normal CW mode ... even from the 'burbs!
There are probably many of you already listening to WSPR signals on HF and have yet to venture down to 630m to see what can be heard. The improved propagation conditions of late make this an ideal time to have a peek at 630m and see what you can spot.
Your low-band wire antennas can often hear surprisingly well below the broadcast band and you may be surprised at what WSPR can detect. Use the USB mode with your receiver set to 474.200 kHz and, if possible, upload your 630m MF spots to the WSPRnet. You can also follow up-to-the-minute activity on the
2200m/630m ON4KST Chat page
which is always interesting.
Steve McDonald, VE7SL, is a regular contributor to AmateurRadio.com and writes from British Columbia, Canada. Contact him at

[email protected]

.