I just ordered an AP510/AVRT5 APRS tracker and am anxious to get my hands on it to try it out. I like the small size and the fact that it is self contained - no external wires are needed to have a fully functional tracker for the
automatic packet reporting system
APRS: But is it useful or just a toy?
The specifications from the
Amazon.co.uk site
are (adapted from Chinenglish):
SainSonic AVRT5 APRS Tracker VHF with GPS/Bluetooth/Thermometer/TF Card, Support of APRSdroid
GPS module: SIRF3 module, high sensitivity, fast positioning, stable power.
GPS antenna: 18mm x 18mm active GPS antenna, built-in LNA amplification, Star Search, locate quickly.
VHF Module (1W): The latest 1W VHF transceiver modules, small size, high stability for all types of wireless data transmission.
VHF antennas are individually matched to transmitter to ensure that the standing wave ratio is proper and the emission is efficient.
I also signed up for the
Yahoo group AP510 AVRT5 APRS
.
It is evident that the 2. harmonic suppression leaves something to be desired, that the antenna is inefficient, that the programming interface isn't the easiest to deal with, and that it can be hard to set the frequency for people in countries such as Norway with PC's set for "," rather than "." as the decimal point. Hopefully I can figure out ways to deal with all these and also other issues that may show up.


Sverre Holm, LA3ZA, is a regular contributor to AmateurRadio.com and writes from Norway. Contact him at

[email protected]

.
Last Friday, I was working from home. I generally have one of the radios on in the background and of late, it has been the revived TS-940S, generally on 10m or 40m.

Thursday evening had been very windy, so when 10m seemed very quiet indeed, I wasn't too surprised, I thought the coax had fallen off at the feed or something. I popped out and checked - it looked ok, but I tightened it all up and tried again. Still nothing!

I replaced the barrel coax connector between the antenna and the feedline, No luck!

Then I put a dummy load at the end of the coax - hmm. SWR 1:1.5 or so in the shack, but no receive noise. I quickly connected the FT-817 to the base of the antenna. Lots of signals!

A coax problem then! That could be interesting as the coax was buried in undergrowth around the perimeter of the garden. I gently started to trace the coax from the antenna back towards the termination point. Rather tellingly, just a few moments later the cause became obvious. The coax had been gnawed through.

Rats!

A hasty bit of splicing and we're back in business!
Tim Kirby, G4VXE, is a regular contributor to AmateurRadio.com and writes from Oxfordshire, England. Contact him at

[email protected]

.
Ham radio continues to grow in popularity and it seems to be gathering even more interest from curious muggles. It's no longer an oddity to see dozens of news stories about our hobby splashed from various news reporting services.
Just last night, my wife and I were driving to dinner, and the car radio was tuned to a local channel that has started playing Christmas music around the clock. At some point during a break in the music there was a short public service announcement about amateur radio. I suppose it was sponsored by the local radio club though I can't be certain — it was an ARRL promotion.
My point is that there is an increasing possibility that one of these days, someone from the local newspaper or TV news station might approach YOU to ask a few questions about your hobby. And while none of us are going to be the perfect ambassador/evangelist/spokesperson for the entire hobby, if that fate should befall you, I hope you're able to elicit a better headline than what appeared recently in the Des Moines Register:
Men support fading ham radio habit
Overall, the article is interesting and, if you can get past that headline and the initial wave of nausea, it's not really all that bad. I'm assuming the interviewer who crafted these words was influenced by things shared by those being interviewed:
"But in the age of the smartphone, the amateur radio network is a dwindling hobby whose aging practitioners are the keepers of a fading but potentially still vital means of communication."
No matter whose responsible for spinning that notion, it's just flat out wrong. Poppycock. Hokum. There's nothing "dwindling" about the hobby. The number of licensed hams in the US is at its highest level in history and it continues to enjoy strong growth.
On the air activity has changed significantly from the 1950's but there are no fewer signals in the spectrum now than at some mythical touchpoint in the past. Forty years ago, its likely this story would never have even appeared in a newspaper as amateur radio was much too small a niche to waste newsprint on.
I'm not kidding, you really do need to prepare for how you'll respond to a question about your hobby, and not just from someone working in popular media.
Sooner or later, your family, friends, and co-workers are bound to discover that you're a radio ham. And when they do, someone is invariably going to ask the toughest question. One that's not on any radio test exam but should be:
"So what do you talk about on the radio?"
This one can be a real stumper and you need to think long and hard about what you will say when it comes up, because it will eventually come up. How you answer will, at a minimum, become the basis for someone's opinion of amateur radio. And at the very best, your answer might spark an interest that results in yet another new call sign for all of us to work.
What will you say?
This article first appeared in CALLING CQ a weekly letter for amateur radio enthusiasts.
Tagged:
media
Jeff Davis, KE9V, is a regular contributor to AmateurRadio.com and writes from Indiana, USA.
Series Seven Episode Twenty-Five of the ICQ Amateur / Ham Radio Podcast has been released. In this episode, Martin M1MRB / W9ICQ is joined by Leslie Buttersfield (G0CIB) and Chris Howard (M0TCH) to discuss the latest Amateur / Ham Radio news. Colin M6BOY rounds up the news in brief, and this episodes feature Martin Butler M1MRB / W9ICQ talks to Dr Elizabeth Bruton about the History of World War One Radio.
Youngsters On The Air
Teenager wins prize with Morse code
Popular Electronics Magazines Archive
New IARU-R1 HF Handbook
Amateur Radio Hams Lead Indonesia
Ofcom Amateur Radio Licence Statement
New Digital Mode App EXChat
Licensing of Television White Space Devices - Now Open
Indian Students Develop New Satellites
Ofcom 420-470 MHz Consultation
Colin Butler, M6BOY, is the host of the ICQ Podcast, a weekly radio show about Amateur Radio. Contact him at

[email protected]

.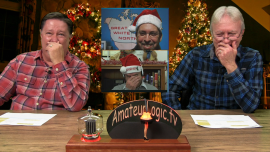 AmateurLogic.TV Episode 73 is now available for download.
Peter talks about Propagation, Tommy shows us Arne's IC-7100 with Remote Rig, George presents the CheapoDuino Finale. Plus our exciting holiday present to you, The AmateurLogic Christmas Album Collection with Mike Morneau, VE3MIC.
This is an excellent way to end the year. We hope you enjoy it as much as we did making it.
1:17:26
George Thomas, W5JDX, is co-host of AmateurLogic.TV, an original amateur radio video program hosted by George Thomas (W5JDX), Tommy Martin (N5ZNO), Peter Berrett (VK3PB), and Emile Diodene (KE5QKR). Contact him at

[email protected]

.